Bamana N'tomo Mask
Tribe:

Bamana

Origin:

Mali

Approx Age:

Early 20th Century

Materials:

Wood, Cowrie Shells, Abrus Seeds

Dimensions cm:

47 tall x 16 wide

Ref. Number:

0924
£ SOLD
A stunning old Bamana Ntomo mask from an old UK collection. Seven horned mask originally, sadly over time it has lost one of the horns. Lovely encrusted patina, still has remains of original decoration of cowrie shells and abrus seeds. Beautiful uniformity within the carving of the horns and facial features and showing a very traditional style. Three incised lines around the sides of the mask. To the rear of the mask at the bottom shows signs of age deterioration but none of this detracts from the true beauty and age of this wonderful mask.
PROVENANCE: Ex Seward Kennedy Collection.
The Bamana Ntomo masks were worn by boys as they passed through the early cycle of initiation into manhood. The masks reinforce the lessons the boys are taught as they are prepared by elder males in the society for circumcision. There are two main style groups of their masks. One is characterized by an oval face with four to ten horns in a row on top like a comb, often covered with cowries or dried red berries. The other type has a ridged nose, a protruding mouth, a superstructure of vertical horns, in the middle of which or in front of which is a standing figure or an animal. The ntomo masks with thin mouths underscore the virtue of silence and the importance of controlling one's speech. During their time in ntomo the boys learn to accept discipline. They do not yet have access to the secret knowledge related to korè and other initiation societies. Members wore a wooden face mask during the initiation festival at harvest time and when begging for rice.
Photograph taken from: www.declippel-catherine.com
One reference sites the number of horns on such masks to symbolizes a human being's levels of increased knowledge based on the initiation stages, while another reference sites that Ntomo masks with an even number of horns are female and those with an odd number of horns are male. Some masks are plain wood with no decoration while others are covered in brass repousse, cowrie shells or small red seeds (abrus) with further esoteric significance and the masks will vary greatly by region.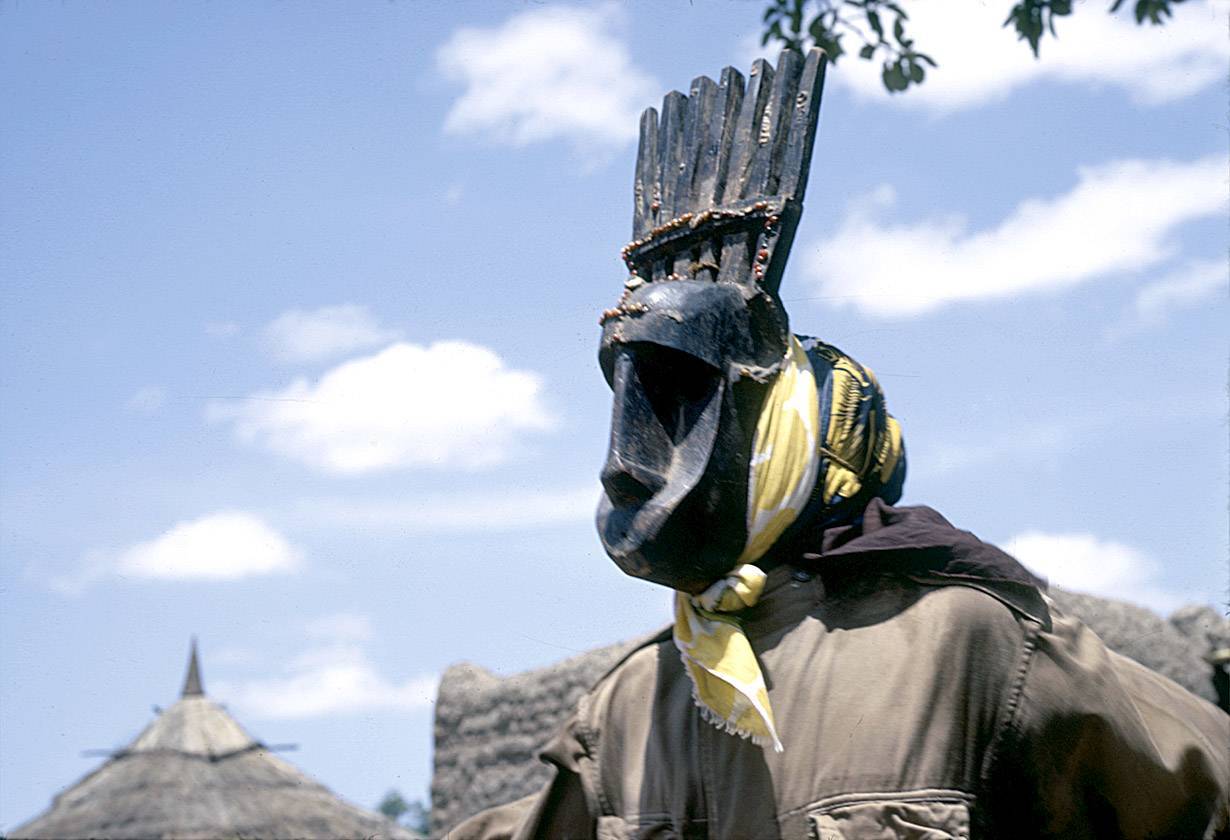 Sources Bamana: The Art of Existence in Mali, Africa: The Art of a Continent, A History of Art in Africa