Dogon Bowl
Tribe:

Dogon

Origin:

Mali

Approx Age:

Mid 20th Century

Materials:

Wood

Dimensions cm:

14 x 25 (handle - handle)

Ref. Number:

0342
£95.00
An exquisite Dogon Bowl, probably used for either eating from or in the use of food preparation,  made of wood with a darkened patina showing plentiful signs of being well used. This bowl has the zig-zag incised carving around the entire bowl, including the handles, symbolizing the 'flow of water' in Dogon culture. Protruding triangular shaped handles on either side of this bowl give this item of everyday tribal use a lovely feel.
Provenance: Ex French Collection.
The Dogon are an ethnic group living in the central plateau region of Mali, in Western Africa, south of the Niger bend, near the city of Bandiagara, in the Mopti region. Know and recognized for their extensive carving of ceremonial masks and wooden figurative art. Dogon art is extremely versatile, although common stylistic characteristics – such as a tendency towards stylization – are apparent on the statues. Their art deals with the myths whose complex ensemble regulates the life of the individual. The sculptures are preserved in innumerable sites of worship, personal or family altars, altars for rain, altars to protect hunters, in market. As a general characterization of Dogon statues, one could say that they render the human body in a simplified way, reducing it to its essentials. Some are extremely elongated with emphasis on geometric forms.
Dogon art is primarily sculpture. Dogon art revolves around religious values, ideals, and freedoms. Dogon sculptures are not made to be seen publicly, and are commonly hidden from the public eye within the houses of families, sanctuaries, or kept with the Hogon . The importance of secrecy is due to the symbolic meaning behind the pieces and the process by which they are made.
Themes found throughout Dogon sculpture consist of figures with raised arms, superimposed bearded figures, horsemen, stools with caryatids, women with children, figures covering their faces, women grinding pearl millet, women bearing vessels on their heads, donkeys bearing cups, musicians, dogs, quadruped-shaped troughs or benches, figures bending from the waist, mirror-images, apron ed figures, and standing figures. . Craft skills are well developed among the Dogon, especially the making of pottery and baskets, weaving, wood carving, and leather- and iron working. Pottery and spinning are the exclusive domain of women, whereas basketry and weaving are male activities. Two of the most specialized crafts—leather- and iron working—are restricted exclusively to members of a craft caste.
The blacksmith, set apart by his caste, has no rights in the village and lives entirely on the proceeds of the sale of his goods to other villagers.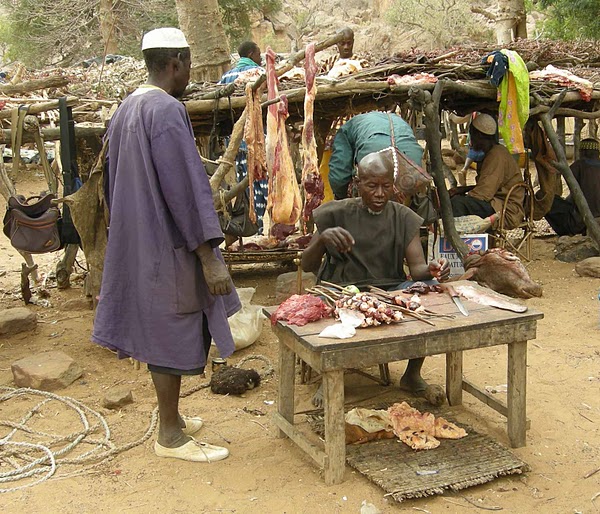 Markets are held every four or five days in areas well removed from the villages. Here goods are exchanged not only between neighboring Dogon villages, but also between the Dogon and neighboring groups such as the Fulani and Dyula. Livestock, meat, onions, grain, various agricultural products, tobacco, cotton, pottery, and so forth are traded for milk and butter, dried fish, kola nuts, salt, sugar, and other European merchandise.