Asante Akua'ba Doll Figure
Consecrated by ritual specialists, they are carried by women who hope to conceive a child. After influencing pregnancy, akua ba become family heirlooms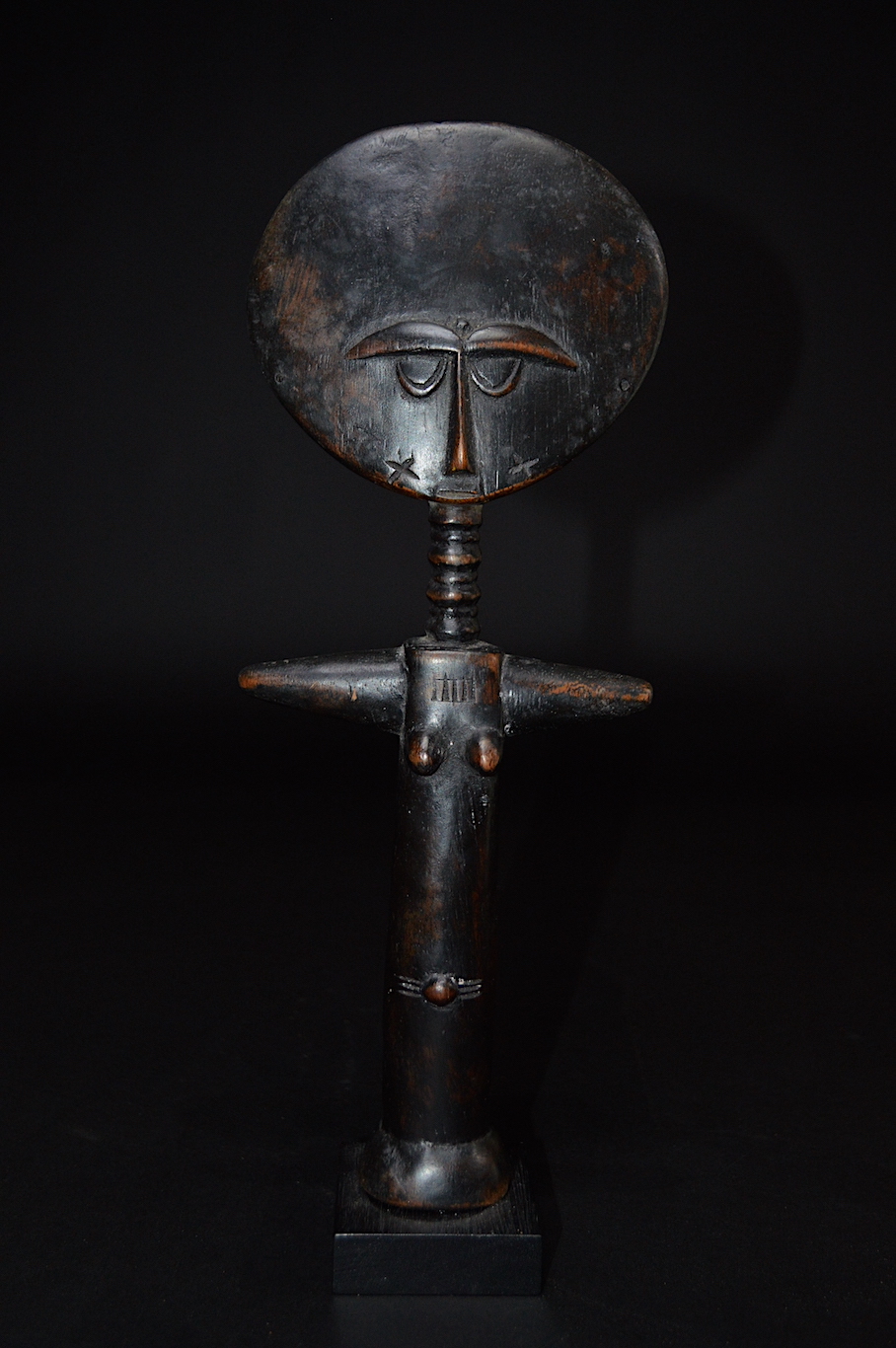 Tribe: Asante/Ashanti
Origin: Ghana
Approx Age: Mid 20th Century
Materials: Wood
Dimensions cm: 37 tall on the stand
Ref. Number: 1881
Description:
Asante or Ashanti Akua'ba female 'doll' figure; made of wood with a disc-shaped head, short projecting arms, ringed neck, and breasts, with scarification around the protruding navel and above the breasts, on the cheeks and to the rear. Columnar torso expanding to base. The outer edge of the head has pierce holes most possibly for beaded earrings at one time.
Provenance: Ex-Professor John Monroe, Nevada, Iowa, USA. 
History
Characterized by their disk-like heads, abstracted horizontal arms, cylindrical torso with simple indications of breasts and navel, akua ba figures remain one of the most recognizable forms in African art. Consecrated by ritual specialists, they are carried by women who hope to conceive a child. The flat, disk-like head references the Akan ideal of feminine beauty of a round face and wide forehead. The rings on the figure's neck are a standard convention for rolls of fat, a sign of beauty, health, and prosperity in Akan culture. After influencing pregnancy, akua ba become family heirlooms, appreciated not only for their spiritual associations but also as beautiful images that call to mind a loved one.
According to Akan myth, in the distant past, a woman named Akua could not conceive. Akua sought first the spiritual reason for her infertility. She went to a diviner (a person with the power to use invocation and manipulation of spiritual entities, potent objects, and herbal mixtures to intercede with the gods on behalf of the people). He told her to commission a carver to create for her a wooden child and to care for that child as though it were her own. Akua did as she was told and within a few months, she conceived.
Among the Akan peoples, women who had trouble becoming pregnant might utilize one of these figures in the same way Akua did, if a diviner—after ritual prophecy—ascertained that it might be helpful. A carver would then create a figure for her and she would carry it on her back, offer it symbolical food and drink, and honour it on a shrine in her home until she conceived a child (ba). The figure could be gifted to another female family member if she, too, sought spiritual help to bear a child.
References: The Met Museum, The British Museum and Khan Academy.org
Contact Exquisite African Art