The Bamana people make and use doors that are somewhat similar to their neighbours, the Dogon. They are less well-known, usually less embellished, and their door locks are usually much larger.
Tribe: Bamana/Bambara
Origin: Keleya, Mali
Approx Age: 1950-60
Materials: Wood
Dimensions cm: 148 x 78
Ref. Number: 1153
Description:
A well-used Bamana door complete with lock collected originally from the village of Keleya, Southern-West of Mali. A nice modest door and lock, a very traditional Bamana door comprising of 3 vertical planks of thick wood braced with horizontal stabilizers with carved round pegs which would have pivoted in a frame with holes and a much more elaborately carved door lock.
History
The form of motifs employed in Bamana door locks usually is invested with symbolic messages despite their formal simplicity. These messages, both in abstract and representational imagery, can be deeply personal. The stylized figure is usually a representation of an ancestor whose presence is required to ensure protection from bad spirits or sorcery. The addition of animal representation such as the butterfly enhances the power of the ancestors and therefore provides additional protection. The presence of the door lock representing a woman was also believed to prevent the men from being unfaithful to their wives.
Such locks were given as gifts to young brides and symbolised sexual intercourse: a vertical female figure with a moving 'male' horizontal bolt. They were passed from generation to generation. The locks tended to be given names according to the message, ancestor or story to which their form and motifs referred.
The Bamana people live in West Africa, primarily in Mali. They also live in Guinea, Sénégal, Burkina Faso and Niger. They number almost three million today and comprise the majority of Mali's population (the Bamana dialect is the dominant dialect of Mali and is even spoken by non-Bamana Malians.) Today, most Bamana are nominally Muslim, but traditional tribal beliefs also remain strong.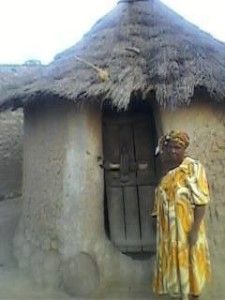 Contact Exquisite African Art