Bambara Souroukou 'Hyena' Mask
A beautifully styled Bambara Souroukou 'hyena' mask. Ex Seward Kennedy collection.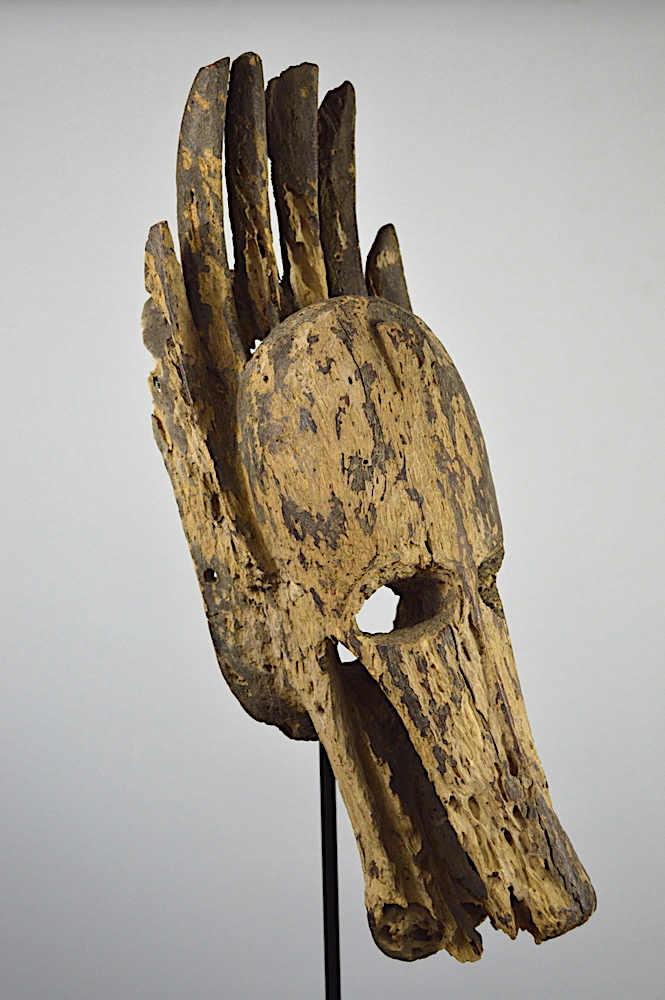 Tribe: Bambara / Bamana
Origin: Mali
Approx Age: Early – Mid 20th Century
Materials: Wood
Dimensions cm: 42 long x 14 wide
Ref. Number: 0925
Description:
Bambara Souroukou 'hyena' mask used by the members of the 'Kore' society. A stunning style to this old mask that is full of character, old evidence of insect intrusion. The number of horns makes reference to specific characteristics of males (three, six, or 9 horns) or females (four or eight horns) and the androgynous (two, five or seven), making this a female mask having 4 horns.
Provenance: Ex Seward Kennedy collection.
History
Members of the Kore Society among the Bamana / Bambara wear hyena masks in dramas filled with physical stress and painful trials. Initiation to Kore brings a Bambara / Bamana man to complete moral formation, intellectual freedom and spiritual harmony, reintegrating his maleness with the female principals that were abandoned when he was circumcised. The hyena mask's rloe in this transformation must surely refer to the animal's seeming lack of of sexual dismorphism, while referring to the foolishness, incredulity and naivety of those Bambara who have not reached Kore's inner circles of knowledge,or perhaps, who fail to recognise the inevitability of incomplete nature of their wisdom, when compared to gods.
Kore is a triumph over death, if only for an emphemeral moment, and it celebrates human perfectibility. Man is raised above material contingencies so that he may fully enjoy the pleasures offered by sovereign knowledge, and in this vital theatre "hyenas" guard the secrets of Kore.