Bamileke Ashetu Title Holders Hat
It would be unthinkable that a Bamileke outfit or ceremonial costume would be worn without the compleation of a hat.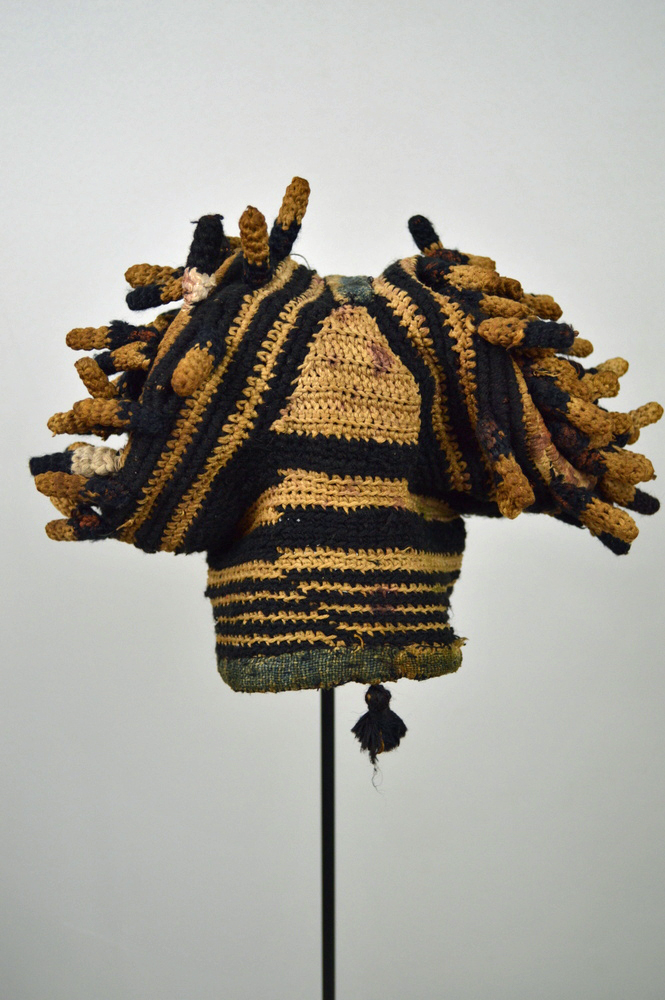 Tribe:
Bamileke
Origin: Grasslands Cameroon
Approx Age: Mid 20th Century
Materials: Cotton
Dimensions cm: 30 across x 20 tall
Ref. Number: 1133
Description:
A beautifully designed Bamileke title holders hat known to these people of the Grasslands of Cameroon as 'Mekan", us Westerners know them better as 'Asdhetu', made from a cotton from a crochet technique, adorned with fingerlings. A nice example from the mid 20th century, it shows plenty of wear to the edges of the inside and has had replacement fingerlings possibly if a few had been lost, these can be seen as a whiter cotton has been used rather than the original brown, someone must have really loved this endearing hat.
History
The numerous peoples of the Grassfields region of Cameroon are organized into chiefdoms, which are each ruled by a king who sits at the top of the social and political hierarchy. The hierarchy consists of male and female titleholders, drawn from both royal and common lineages, who enjoy economic and political privileges. Apparel worn by the king and prestigious individuals are among the treasured examples of Grassfields art, which include some of the most stunning and creative styles of hats, headdresses and caps.
The Grasslands is dominated today by three large cultures: the Bamun, Bamileke, and the Bamenda Tikar. Each village is led by a primary chief, or "Fon." All people in the area are expected to pay allegiance to this leader. Each Fon is selected by his predecessor, based on the dominant lineage within that community. The Fon is served by a council of elders, who advise him on all important decisions and who also play an important role in the selection of the next Fon. Most chiefs serve for a lifetime, abdicating the throne only when near death.