Royal ancestor figures were not worshipped but honoured and cared for. They were displayed for prestige during ceremonies.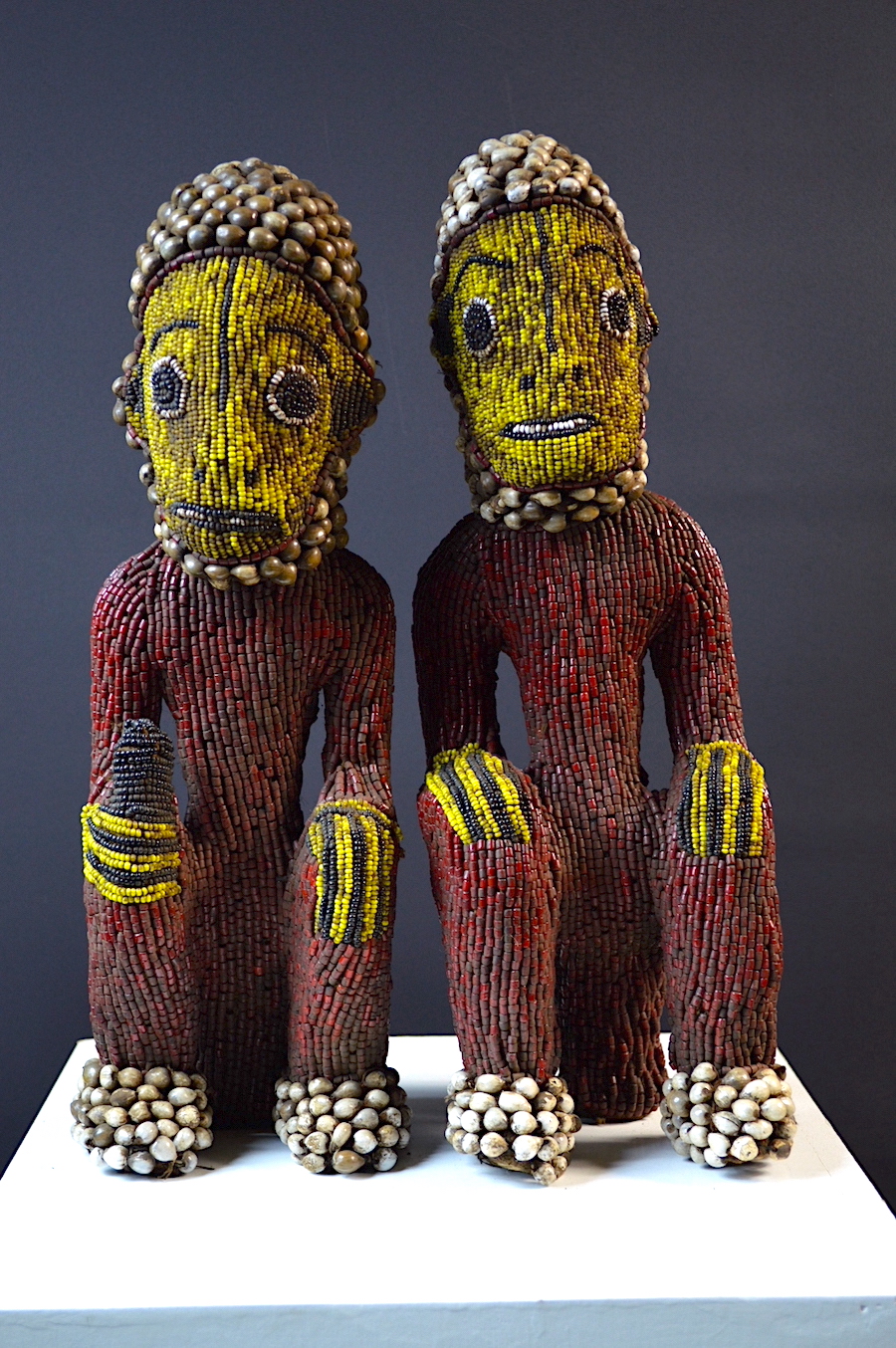 Tribe: Bamileke
Origin: North-West Cameroon
Approx Age: 1960s
Materials: wood, glass beads, seeds.
Dimensions cm: 39.5 & 38 tall
Ref. Number: 1551
Description:
A lovely pair of Bamileke beaded figures, we purchased these in need of restoration as quite a few of the Charabia seeds on the head and feet were missing, we sent them back to Cameroon for this restoration work to make these complete and closer to the original state. They now look lovely again, these were covered in palm wine prior to getting them restored and none has been cleaned from them.
Provenance: Private UK collection, collected in the late 1960s/early 1970s
History
Prior to missionization, Bamiléké believed in a creator God, Nsi. Some groups believed in local deities relating to natural features (streams, groves of trees, rocks) and personal spirits. All Bamiléké believed in the power of ancestors, through the metonym of the ancestral skull (tu), to cause good or bad fortune for their descendants. Matrilineal ancestresses were believed to be especially prone to anger. Although these beliefs persist, many Bamiléké are now members of Christian churches. The dominance of two major denominations, Catholic and the Église Evangélique du Cameroun (of French Calvinist origin), varies by locale. The Baptist, Jehovah's Witness, and Adventist churches are active in the Bamiléké area, but to a lesser degree.
 Religion and politics are not easily distinguished. The Bamiléké king is considered divine and responsible for the health and well-being of his subjects. He is aided in his religious duties by the Bandansi (the men of the house of God), a secret society. Three other groups are also important in religious practice. Lineage heads, as custodians of ancestral skulls, control access to proprietary rites. Diviners and spirit mediums are active in determining the need for ceremonies and in healing. Healers and witches use the same supernatural power, ka, but to good or bad ends.
Read more: https://www.everyculture.com/Africa-Middle-East/Bamil-k-Religion-and-Expressive-Culture.html#ixzz7IzIyx31M