The Bamileke buffalo mask used in the dance known as "Nfo".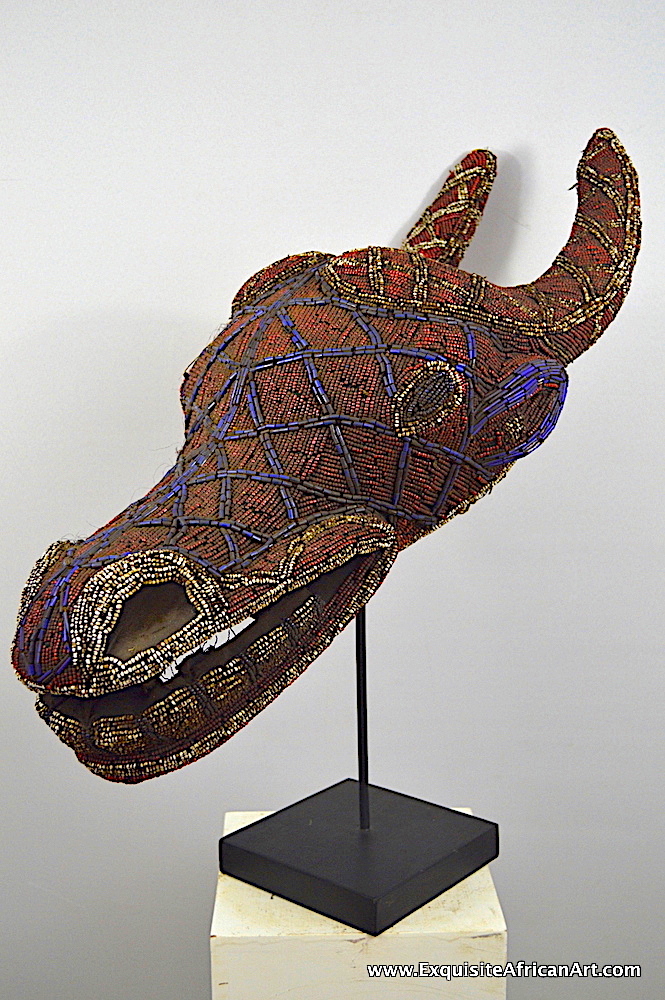 Tribe: Bamileke
Origin: Village Medanoukoue, Grasslands Cameroon
Approx Age: Mid – later 20th Century
Materials: Wood, boubou cloth, glass beads
Dimensions cm: 70 long x 28 wide
Ref. Number: 1376
Description:
A Bamileke buffalo mask used for the "Nfo dance of the ancestors. Beautifully styled buffalo adorned with thousands of red, blue and white glass beads, the beads are arranged un an unusual style of an overlap of the blue beads forming 'diamond and triangular' shapes , all sewn to a traditional boubou cloth underneath attached to the mask. Nice wear patina to the inside of the mask. The appearance of the beads takes on a dirty / dusty look due to the fact of masks being libated with palm wine after ceremony.
History
The buffalo mask is a mask of power and in the days of battles between other tribes this would be paraded in dance when a battle was won.
The Bamileke buffalo mask is a royal mask, only worn by the chief or any one of the nine palace notables. This is worn for the "Nfo" dance, the dance is in memory of the ancestors who have died over the years, to which they ask the 'ancestors skull' for a blessing for these people now departed from their world. Nfo means chief in Bamileke language.
When a chief dies, the notables to him recover his body, the first thing they do is cut off his head, which is then placed in the "house of the skull," this standard practice in Bamileke culture.