Wonderful ceremonial Bamileke feather Hat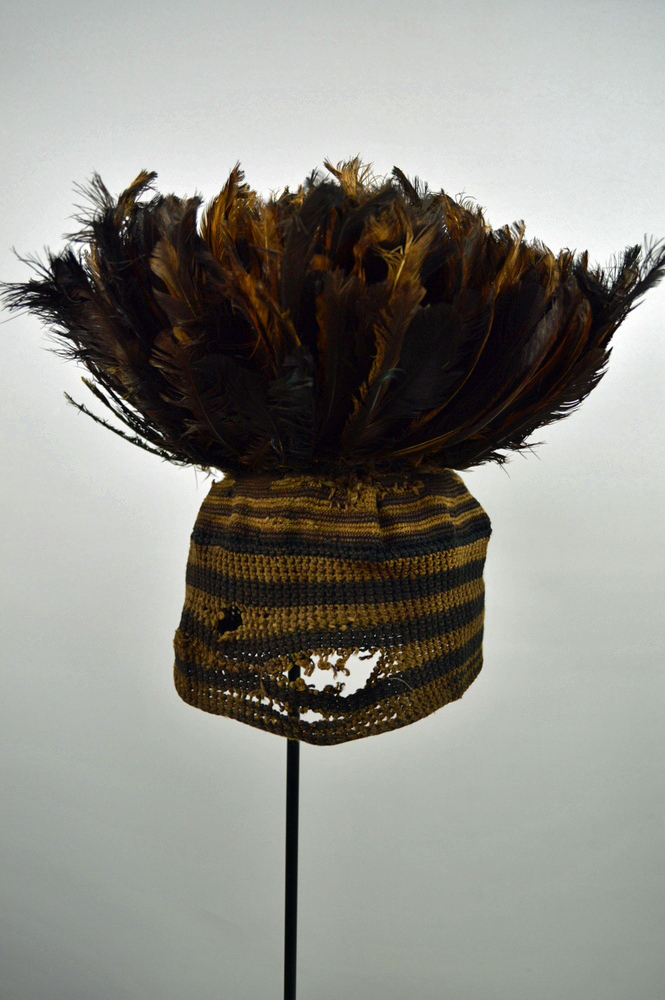 Tribe:
Bamileke
Origin: Grasslands Cameroon
Approx Age:  Late 20th Century
Materials: Fabric/Feathers
Dimensions cm: 30 (tall) x 38 (feather spread)
Ref. Number: 1131
Description:
Beautiful feather adorned Bamileke hat. Two colours have been used in this crocheted technique hat to create the rim of both dark/light brown stripes. The crown has also been crocheted using cotton thread to which the feathers (probably chicken) have been added. Feathers are mainly dark brown in colour but the usage of lighter feathers give a light relief to this otherwise dark ceremonial hat. There are some signs of wear resulting in a few loose threads but none of this detracts from this amazing ceremonial hat.
History
The Bamileke are part of a larger cultural area known collectively as the Cameroon Grasslands. Within the Bamileke complex there are numerous smaller peoples who are loosely affiliated and share many similarities while retaining separate identities. The Bamileke originally came from an area to the north known as Mbam, which is today occupied by the Tikar. Fulani traders moving steadily southwards into Cameroon in the 17th century forced the southern drift of most of the Bamileke, although some elected to stay behind and live under the control of the invaders. They traveled through the area now occupied by the Bamum where many Bamileke remained and intermarried. Eventually, the majority settled in scattered villages to the south of Bamum territory.
Ceremonies and festivals play a significant part in the life of the Bamileke and determine that ritual costume has to be worn. An important part of this costume would be the inclusion of a hat. It would be an unthinkable situation that a costume would not have its accompanying hat. The feathered style is recognised as a regal style denoting a high ranking postition within a tribe.
The photo opposite was taken by Abdel Aziz Gbetnkom, he attended at this harvest festival and was sat among 14 chiefs of neighbouring villages and took some  great photos of this spectical and shared them with us as this feathered headdress here for sale Abdel purchased on our behalf.