Bamileke Flute or Whistle
Often described as whistles Bamileke flutes have a distinctive shape that incorporate zoomorphic and anthropomorphic design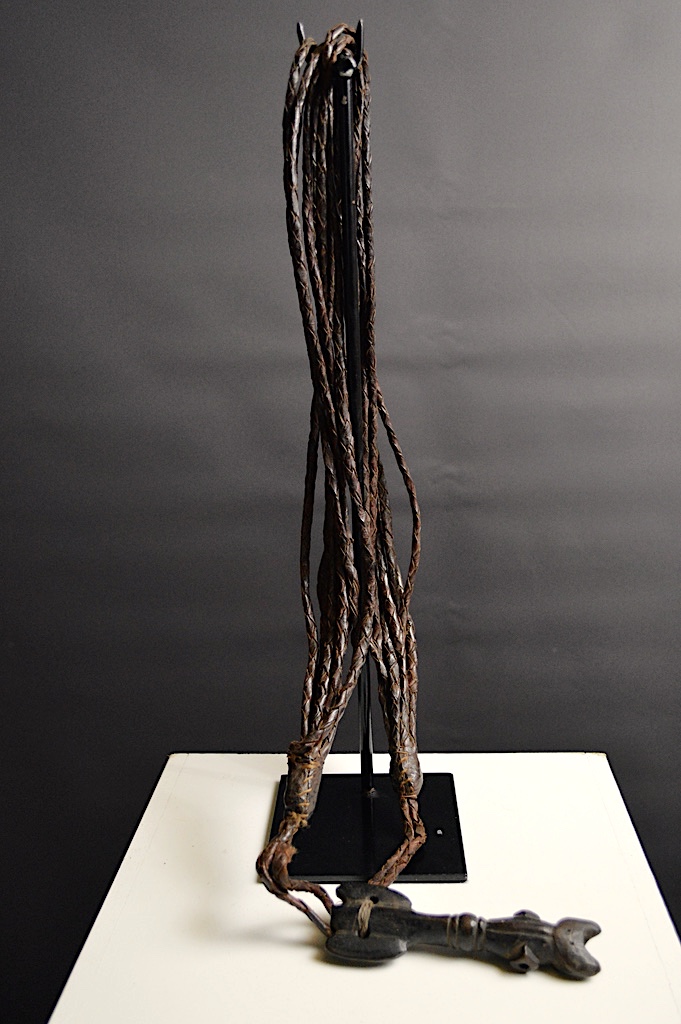 Tribe: Bamileke
Origin: Bikom, Cameroon
Approx Age: 1950-60
Materials: Wood and leather twine
Dimensions cm: flute 14 x 4.5, total 70 long
Ref. Number: knpc aag
Description:
A beautifully shaped Bamileke flute or whistle on a lovely designed leather twine necklace done in eight lengths, this is in great condition for its age. The flute works really well as it was intended and has had great use, a really nice dark patina. Used to perform at ceremonies and to create flute music known as "N'doung-Sim".
Provenance: Collected from the chiefdom of Bikom in the 1970's
History
Flutes of differing shapes and forms are used in ceremonies across West Africa. These from the Bamileke are particularly beautiful.
"Often erroneously described as whistles Bamileke flutes have a distinctive shape that incorporates zoomorphic and anthropomorphic elements in a supremely functional design. Such flutes are carried on a loop of twine or braided leather threaded through holes in the closed end and worn around the bearer's neck. Hanging in this way the flute can be interpreted as a human figure with the holes as eyes, the projecting stops as arms and the terminal lobes as legs. When played it is inverted and the terminal lobes, projecting stops and hanging holes become, respectively, the horns, eyes and nostrils of a buffalo head. Forest buffaloes are vital icons in Bamileke culture, appearing frequently in folklore and as characters in masked dances."
Reference from: amyas.net