Bamileke Mekan Title Holders Hat
Interesting Bamileke Mekan title holders hat adorned with porcupine quills.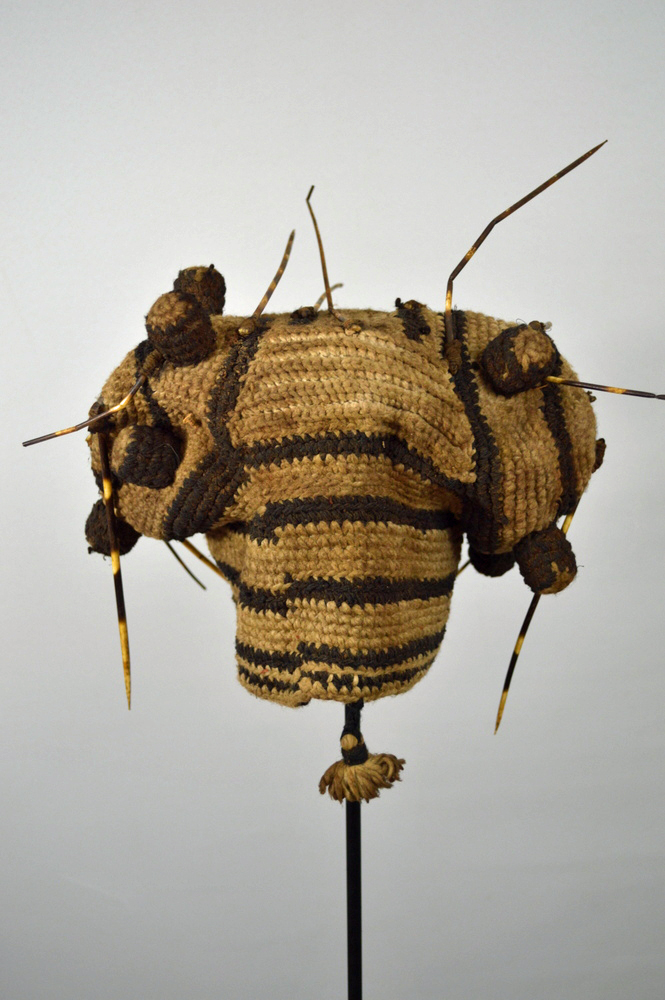 Tribe: Bamileke
Origin: Grasslands Cameroon
Approx Age: Mid – Late 20th Century
Materials: Cotton/Porcupine quill's
Dimensions cm: 18 (tall)
Ref. Number: 1134
Description:
An interestingly designed cotton hat with solid bobbled protrusions and porcupine quill adornment. This hat is made with cotton threads using "crochet" technique to create the basic shape of the hat, using two colours, dark and light brown shades allowing a pattern to be created enhancing this hats appearance. Hats are part of prestigious regalia within the Bamileke Cameroon grasslands. This hat is in good condition, although it does show signs of significant wear.
History
The Bamileke come from the Grasslands area of Cameroon being one of three large cultures that dominate the Grasslands area. Bamun and Bamenda Tikar being the other two. Each village is led by a primary chief, or "Fon." All people in the area are expected to pay allegiance to this leader. Each Fon is selected by his predecessor, based on the dominant lineage within that community. The Fon is served by a council of elders, who advise him on all important decisions and who also play an important role in the selection of the next Fon. Most chiefs serve for a lifetime, abdicating the throne only when near death.
Hats are part of prestigious regalia in the Cameroon grasslands. They are worn by men during special ceremonies. It is unimaginable to see a notable in an outfit without his hat. A simple head adornment accessory  is an indication of the owner's social rank and status. These sculptural hats are sometimes represented on carved figures.