Bamileke Ngon Helmet Mask 
Cameroon royal masks represent the power and nobility of their owner.
Tribe: Bamileke
Origin: Bekom, Cameroon
Approx Age: First half 20th Century
Materials: Wood
Dimensions cm: 29 tall x 21 wide
Ref. Number: 1724
Description:
A wonderful old style carved royal Bamileke Ngon / Ngoyn helmet mask, used for dancing by one of the chiefs 9 notables of the village of Bekom. Used for the funerals of the ancestors and the celebration of tradition and cultures. There is damage to the rear of the mask, which can be seen clearly in the photos. This mask shows a great expression through the carving and the unusual painted decoration, this has seen long term usage.
Provenance: Ex-old UK collection.
History
Bulging cheeks and openwork within the hairstyle, apparently this hole is purely to carry the mask! Cameroon royal masks represent the power and nobility of their owner. Some examples were so massive that they were never danced but only carried in procession. The masked dancer peers through a scarf-like fabric positioned completely over the head and face sitting below the mask, as the masks are worn on top of the head like in the stock photo. The elegant carving and highly refined features of this mask may point to it having been created in or near Bekom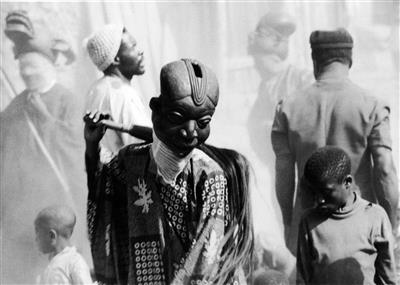 Contact Exquisite African Art