Stunningly detailed lost wax cast figure of a Benin bronze guard.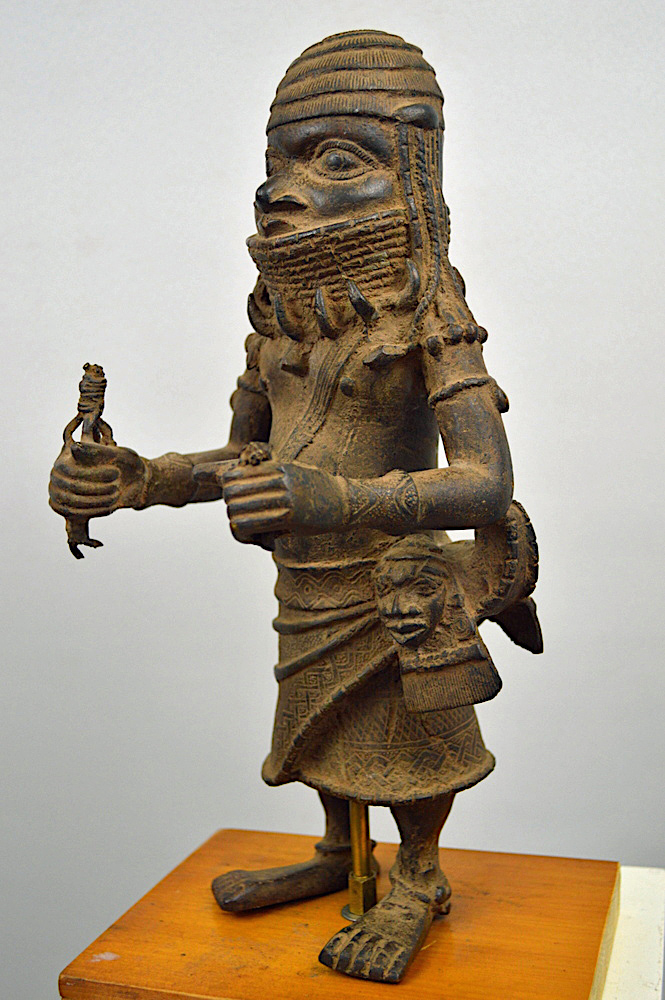 Tribe:
Benin
Origin: Benin – Nigeria
Approx Age: 19th – 20th Century
Materials: Bronze
Dimensions cm: 38 (tall on base)
Ref. Number: 1249
Description:

Outstanding Benin bronze guard. This is a superb figure cast using the ' lost wax' process. He stands approximately 38cm tall (on the stand). True skill and craftsmanship is displayed in this item. Detail throughout this Benin figure is astonishing, from markings on the robe, hair, wrist cuffs, hip mask, ankle adornmets all the way down to the toes nails. Sadly the swords held within his hands haven't stood the test of time and are missing but this really is a minor detail when this figure is perfect in every other way. A truely stunning piece of Benin bronze art.
Provenance: Ex Geoffrey Key Collection UK.
History
Benin today as a modern African city in  south-central Nigeria. It was once a powerful city. The present-day oba of Benin traces the founding of his dynasty to A.D. 1300. In the late 1400s, a flourishing and wealthy royal court was in place, with a palace harboring a vast compound where metalsmiths, carvers and others created objects for the king and his court. Unlike most African cultures, the people of the Benin kingdom did not freely create tribal art, they were ordered to make specific art by the Oba, such as brass heads, plaques and leopard statues, to decorate and guard the palace. The Benin made their art using the lost-wax casting method and often used brass, ivory and terracotta as their materials.The casting of brass was an art controlled by the king himself; anyone found casting brass without royal permission faced execution.