This lovely Borneo drum was purchased 1964 from Iban inhabitants of the longhouse "Rumah Ansi".
Tribe:
Iban
Origin: Borneo
Approx Age: Collected from Sarawak in 1964
Materials: Wood/skin/wicker
Dimensions cm: 18 (tall) x 23 (wide)
Ref. Number: 0955
Description:

A lovelyBorneo drum made of a hollowed out piece of wood. An animal skin has been used and stretched over the top of the drum to give it sound. Wicker bindings around the rim with wooden pegs incorporated to keep the tension of the skin which gives this drum its percussion sound. Although this drum is over 50 years old it is in lovely condition suggesting it has been truely cherished and safely stored for a long time. 
Provenance: Collected by John Venmore 1964, John Venmore can be seen in the photo below.
History
The Iban population is concentrated in Sarawak, Brunie, and in the Indonesian province of West Kalimantan. They traditionally live in longhouses called rumah panjai.
This exact drum was purchased in 1964 from the Iban inhabitants of the longhouse 'Rumah Ansi' on the banks of the Rajang river in Sarawak Borneo. The long house (Ansi's House) is on the left hand bank downstream from the town of Kapit and above the town of Song. The picture shown was taken during an impromptu party laid on for the crew of RASCV ARAKAN an army crewed tank during the confrontation between Malaysia and Indonesia. This information was passed over to us upon purchase of this special drum so it is very acurate giving this drum a real history. As the photograph shows a young girl is playing this actual drum during the party that was thrown and John Venmore also. The drum was given to the school by the villagers.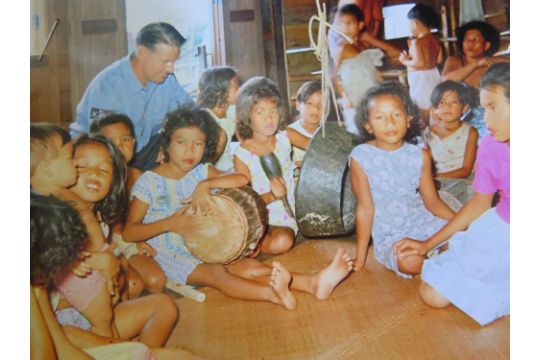 This is the exact drum in the photo that the little girl is holding, with John Venmore behind her.