Nicely crafted iron bangle of the Dogon, Mali.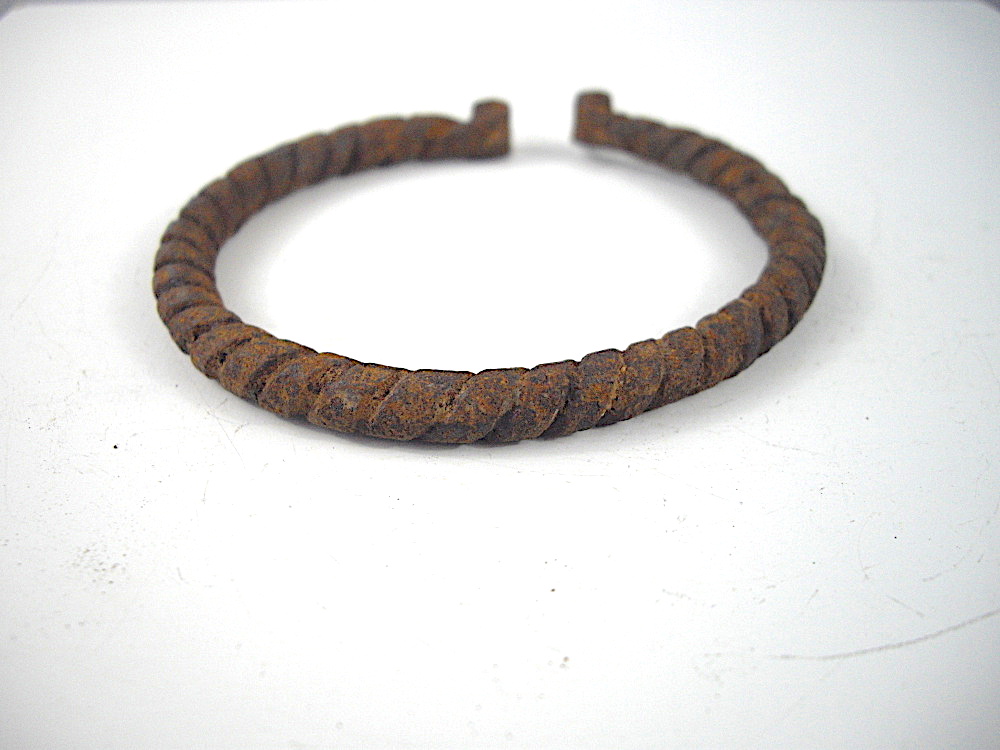 Tribe:
Dogon
Origin: Mali
Approx Age: Early – Mid 20th Century
Materials: Iron
Dimensions cm: 6 (diameter)
Ref. Number: 1317
Description:
Lovely wrapped iron Dogon bangle from Mali. Showing the characteristic twisted design throughout the main body of the bangle, having scroll end detail at the opening. Only a very small opening gap is present here, ( 1 cm). In really good condition for the age of this wonderful piece of Dogon crafted jewellery.
Provenance: Ex Lampevelden Collection – Netherlands.
History
Among the Dogon people, jewellery is not only an item regarded for its body adornment purposes. Jewellery often serves as much more than that of just personal adornment Bracelets, rings and necklaces might signify that the wearer or owner is linked to ancestors or spiritual leaders. The wearer may also be identified as a priest or caretaker/keeper of a particular alter by the jewellery he wears. Bracelets being used as fetishes, objects believed to have supernatural power. The Dogon are known for their iron bracelets and adornments in general which are often made out of wrapped iron worn by the Hogon, the spiritual leader of the Dogon community. These adornments primarily had a ritual meaning.
A hogan is a religious figure as well as a temporal authority. The Hogon may be hereditary or may be chosen from among the village elders—custom varies from place to place. The Hogon is always a man. After being chosen, a Hogon must pass through several months without washing or shaving. After initiation, he wears a red cap and a pearl bracelet. Hogon live alone and should be celibate, but a village girl may act as a maid. Nobody should touch the Hogon.
Because of all the belief that the jewellery may hold, either in the shape of a bangle, bracelet, ring or necklace it is not uncommon for the hunters of the village to also adorn themselves with such pieces, believing that the protective powers look after them.
Contact Exquisite African Art