Twisted rope designed Dogon bangle.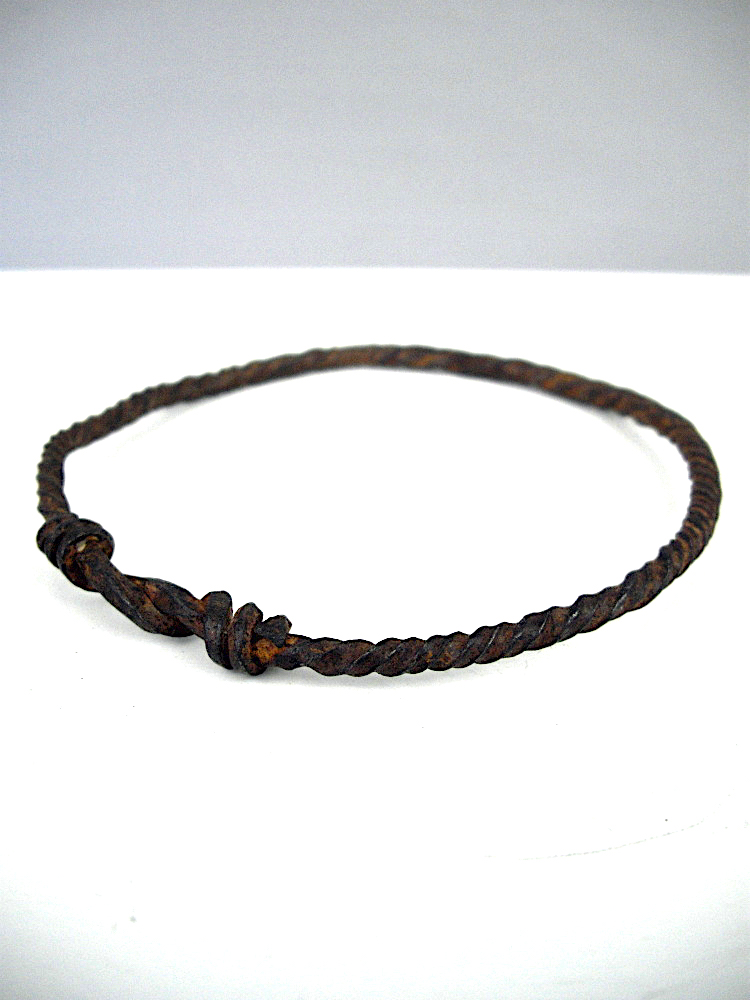 Tribe:
Dogon
Origin: Mali
Approx Age: Mid 20th Century
Materials: Metal
Dimensions cm: 9 (diameter)
Ref. Number: 1307
Description:
Dogon bangle. Forged iron bracelet from the Dogon tribe, Mali. Having a lovely twisted iron design to this bangle that resembles rope. Some of the twistings are tighter in places giving a random patterning which creates a look of design. Clever forging which has incorporated three bands either side of a portion of a larger twist adds to the overall decoration of this bangle. 
Provenance: Ex Lampevelden Collection, collected 1970's
History
The Dogon are an ethnic group living in the central plateau region of Mali, in West Africa, south of the Niger bend, near the city of Bandiagara, in the Mopti region. The population numbers between 400,000 and 800,000.
The metal workers of the Dogon people are famed for their extraordinary construction of distinctive jewelry items.  Dogon motifs include bearded figures, the sun and stars, snakes, rabbits and monkeys.The Dogon are known for their iron bracelets and adornments in general which are often made out of wrapped iron worn by the Hogon, the spiritual leader of the Dogon community. These adornments primarily had a ritual meaning. These bracelets were also used as fetishes, objects believed to have supernatural powers and therefore could protect the wearer hence it is an item of jewellery often worn by the hunters within the village.
Contact Exquisite African Art