Dogon bangles, four individual bangles make up this group of Dogon jewellery.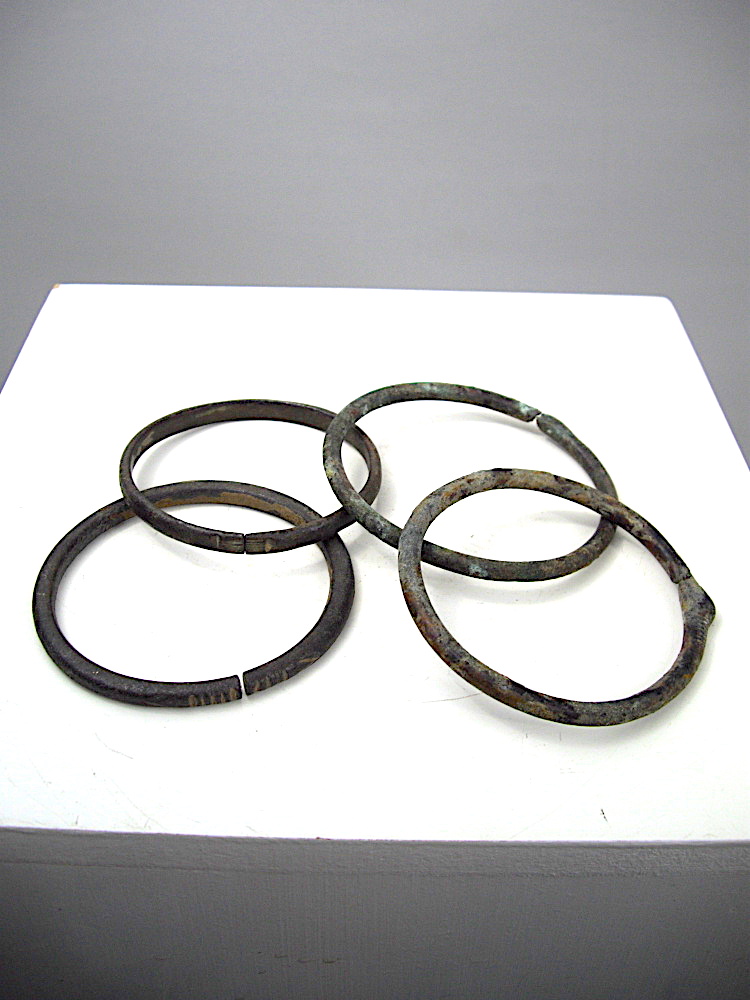 Tribe:
Dogon
Origin: Mali
Approx Age: Mid 20th Century
Materials: Mixed metal
Dimensions cm: 7 – 8 (diameter)
Ref. Number: 1361
Description:
Dogon bangles, a group of four individually patterned Dogon bangles. Diameters of these bangles range from 7 – 8cm. Made of a metal composite and due to age there is the appearance of some oxidization on two out of the four but this doesn't detract at all from the interesting appeal they have. Markings of vertical lines and arrow shapes to one of the bangles, a chequer board effect on another, the third having a slight break in the bangle and the fourth due to age decay has lost most of its patterning but does have a raised detail that possibly symbolized a creature at some time in this bangles history.
Provenance: Ex Lampevelden Collection, collected 1970's
History
The Dogon are known for their iron bracelets and adornments in general which are often made out of wrapped iron worn by the Hogon, the spiritual leader of the Dogon community. These adornments primarily had a ritual meaning. A Hogon is a religious figure as well as a temporal authority. The Hogon may be hereditary or may be chosen from among the village elders—custom varies from place to place. The Hogon is always a man. After being chosen, a Hogon must pass through several months without washing or shaving. After initiation, he wears a red cap and a pearl bracelet. Hogon live alone and should be celibate, but a village girl may act as a maid. Nobody should touch the Hogon.
These bracelets were also used as fetishes, objects believed to have supernatural powers and therefore could protect the wearer hence it is an item of jewellery often worn by the hunters within the village.
Among the Dogon jewellery often serves as much more than just a personal adornment or fashion accessory. It is known that jewellery items such as bracelets, rings and necklaces signify that the owner is or may be linked to ancestors or spiritual leaders. Items of jewellery are also used to identify the wearer as a priest or caretaker/keeper of a particular altar.
Metal workers know as 'blacksmith' are famed for their extraordinary construction of jewellery. Many of these designs include bearded figures, sun, stars, snakes, rabbits and monkeys.