Three bronze Dogon wrist adornments.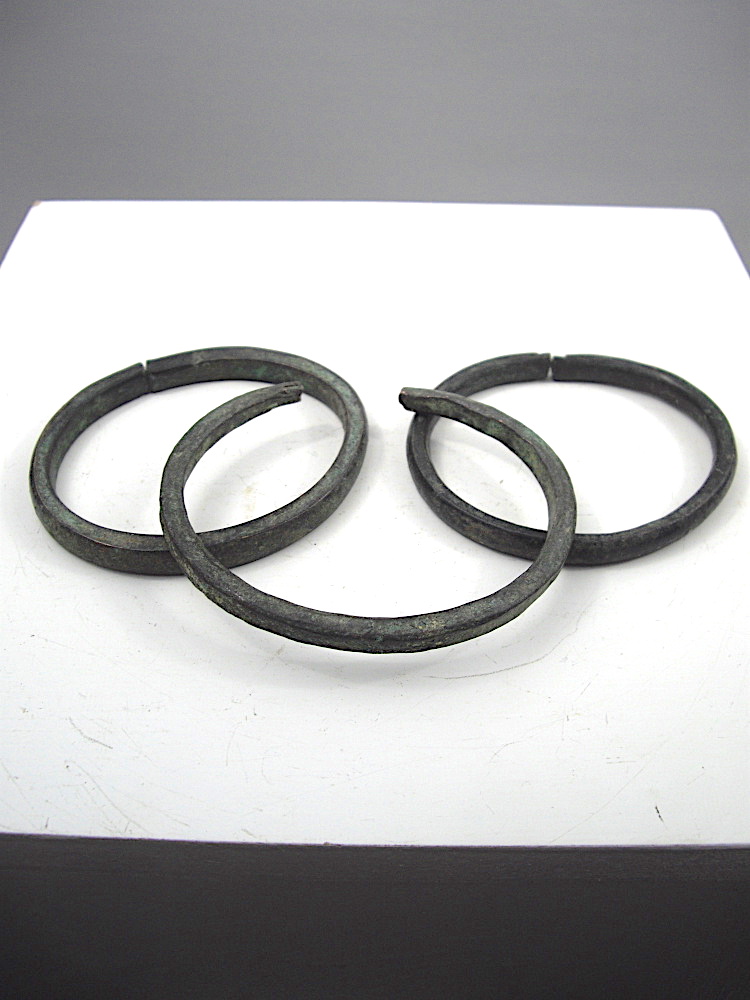 Tribe:
 Dogon
Origin: Mali
Approx Age: Early – Mid 20th Century
Materials: Bronze
Dimensions cm: 8 – 8.5 (diameter)
Ref. Number: 1362
Description:
Three bronze Dogon bangles / bracelets from Mali. One of these lovely bangles is slightly larger with an opening that measures 2.5cm. The other two are of very similar size and although not completely joined there is only a marginal gap. All three bangle are smooth with no apparent marking but they do have signs of some oxidization due to the presence of a green discolouration. Three simply styled, attractive Dogon bangles.
Provenance: Ex Lampevelden Collection, collected 1970's
History
The Dogon are known for their iron bracelets and adornments in general which are often made out of wrapped iron worn by the Hogon, the spiritual leader of the Dogon community. These adornments primarily had a ritual meaning. A hogon is a religious figure as well as a temporal authority. The hogon may be hereditary or may be chosen from among the village elders—custom varies from place to place. The hogon is always a man. After being chosen, a hogon must pass through several months without washing or shaving. After initiation, he wears a red cap, and a pearl bracelet. Hogon live alone and should be celibate, but a village girl may act as a maid. Nobody should touch the hogon.
Dogon bangles were also used as fetishes, objects believed to have supernatural powers and therefore could protect the wearer hence it is an item of jewellery often worn by the hunters within the village.