Dogon door lock, well worn and showing a wonderful incised design.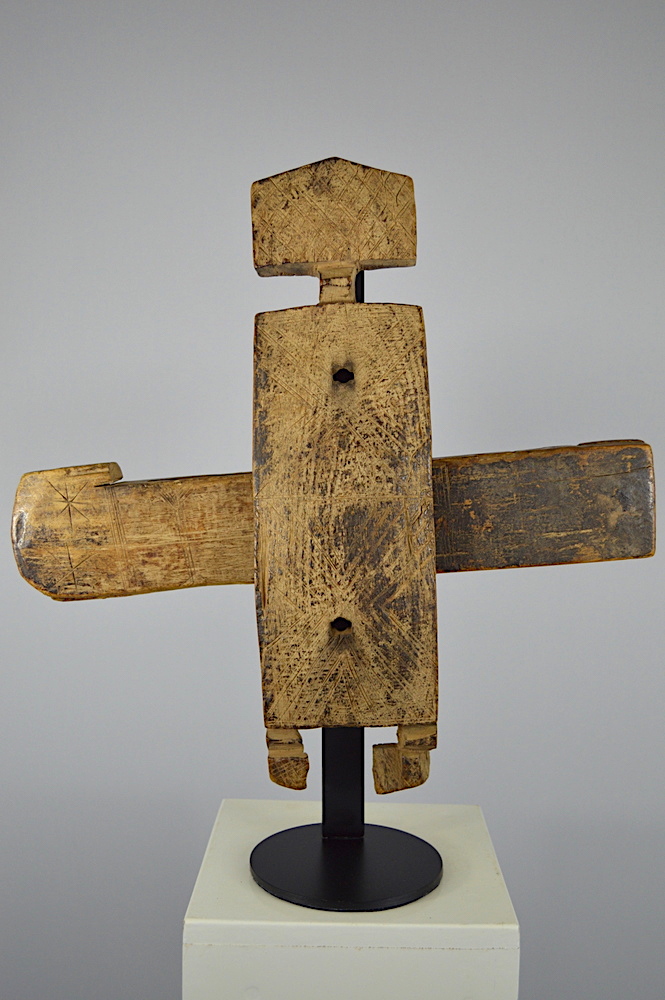 Tribe:
 Dogon
Origin: Mali
Approx Age: Early – Mid 20th Century
Materials: Wood
Dimensions cm: 36 (tall) x 35 (side – side)
Ref. Number: 0327
Description:

Dogon door lock made of wood with well worn incised markings. Beautiful and old showing plenty of signs of good use over its lifetime. This particular door lock has been heavily carved giving an overall incised pattern well recognised as Dogon. There is a small piece missing at the bottom of the door lock but this takes nothing away from its grandeur as a door lock. Having its own bespoke stand which shows off this piece of Dogon art to its full potential.
Provenance Ex: German Collection
History
The Dogon peoples used wooden bolt locks (ta koguru) to secure the doors to houses, interior rooms, granaries, and some shrines. This type of lock was introduced to sub-Saharan Africa with the spread of Islam from the Near East and North Africa. The Bamana and Dogon peoples in Mali especially made them into works of art. The lock consists of three separate pieces: the vertical beam (ta koro); the crossbeam (ta dagu) that slides into a cut-out rectangle in the back of the vertical beam, which is furnished with metal prongs; and a toothbrush-like key (ta i) that slides into a hollowed out part of the crossbeam. The key is outfitted with metal prongs that match those in the vertical beam. A hole bored into the door frame opposite the mounted lock accommodates the rounded or tapered end of the horizontal beam. When the horizontal beam is pushed into this hole, the metal prongs of the vertical beam fall into the matching holes of the horizontal beam. To unlock the door, the dangling prongs of the vertical beam are pushed upward.
Each lock is given a name in accordance with its message, person, myth, or any anecdote referred to. Door locks were a prized gift for young brides and passed down from generation to generation.
References:
The Arts of Africa at the Dallas Museum of Art..
Imperato, Pascal James. "Dogon Door Locks." African Arts
Griaule, Marcel. Conversations with Ogotemmeli. London: Oxford University Press.
Calame-Griaule, in Bilot, Alain, Michel Bohbot, Geneviéve Calame-Griaule, and Francine NDiaye, eds. Serrures du pays Dogon. Paris: Adam Biro, 2003.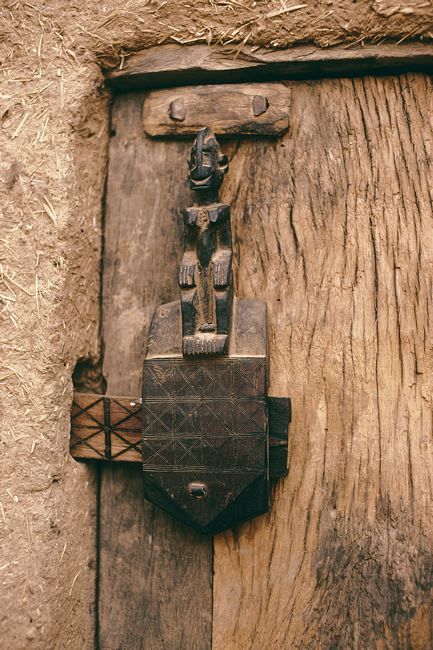 Contact Exquisite African Art