Carvings on a Dogon door are very significant and have many different meanings protection, fertility and status value are just a few.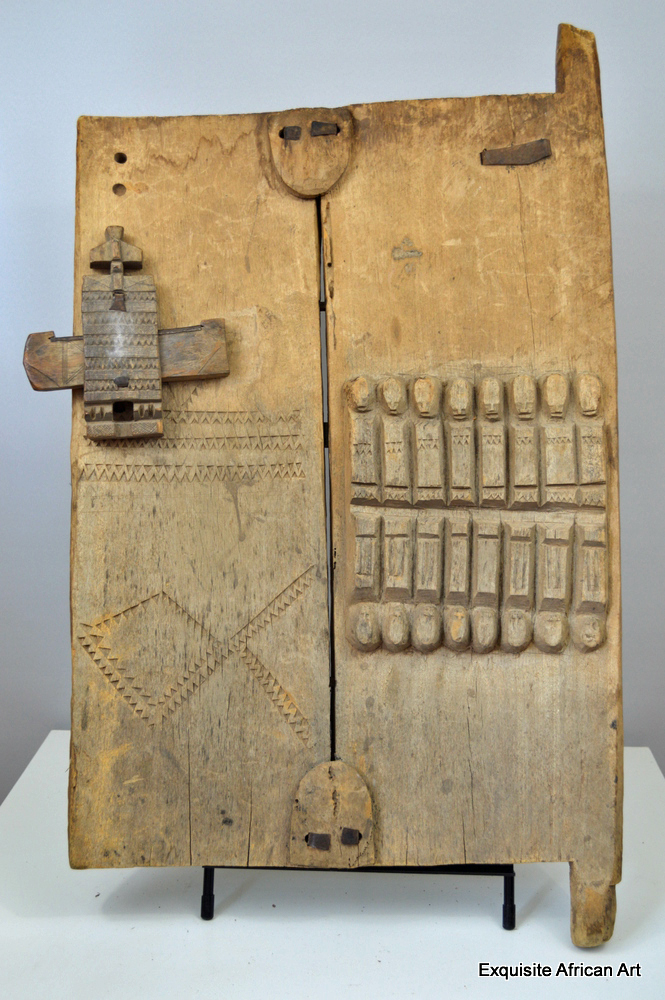 Tribe:
Dogon
Origin: Mali
Approx Age: Mid 20th Century
Materials: Wood
Dimensions cm: 90 peg to peg x 53 wide
Ref. Number: 0440
Description:
A stunning and unusual styled Dogon door depicting the 8 ancestors being a mirror image. The lock consists of an abstract style head on top and rows of zigzags underneath representing the "flowing of water" in Dogon terminology, this continues to the door as a lighter carving and then further down in the form of a fish which the Dogon relate to the "Nommo". The door does have some staining to the top area and to the rear at the bottom due to weather before it was originally collected, and also shows shade difference where the roof of the building has shaded the sun from it when originally in situ, excellent signs of tribal usage.
Ex- German private collection.
History
Dogon doors are used simply to close an opening to their homes, safe stores of tribal pieces etc and adobe granaries in which the Dogon store their grain. The figures on granary doors protect the grain inside from mold, insects and all other threats. Carvings on other doors have all sorts of meanings and sometimes even stories.
The Dogon people of Mali are well known the world over for their creation of Dogon Doors. The doors have various uses in their society; first as the physical closure to their granaries. Secondly they are created and exchanged as gifts for birthdays, marriages, tokens of luck and rites of passage bequests. Thirdly, when used as a part of the architecture, as a door or shutter, in a private abode, through the use of symbols they are used to describe the occupation of the person or that persons persona or status in the village. Lastly, it served as a sign to taxpayers, letting them know which form of payment was accepted in the adjoining building.
Like the majority of the Dogon figures, doors and door locks (ta koguru) were traditionally sculpted by blacksmiths. Blacksmiths (called jemene) belong to a caste of the highest rank, they are at the same time Masters of fire (work of metal) and carve the major part of wooden objects. Each lock is given a name in accordance with its message, person, myth, or any anecdote referred to.  These symbolize a strong magic and spiritual force. This force is then, according to beliefs' animists of Dogon, imparted to the door lock. In the Dogon myth of the creation of the Earth, the amma god bore a being figure known as nommo (the nommo anagonno, symbolized by a fish). This nommo gave birth to four couples of nommo, considered as the eight ancestors of the mankind (unum) and the four elements. Door locks were a prized gift for young brides and passed down from generation to generation.
Contact Exquisite African Art