The Ginna is associated with the Wagem cult, the Ginna Banga (head family member of the village) resides in this building.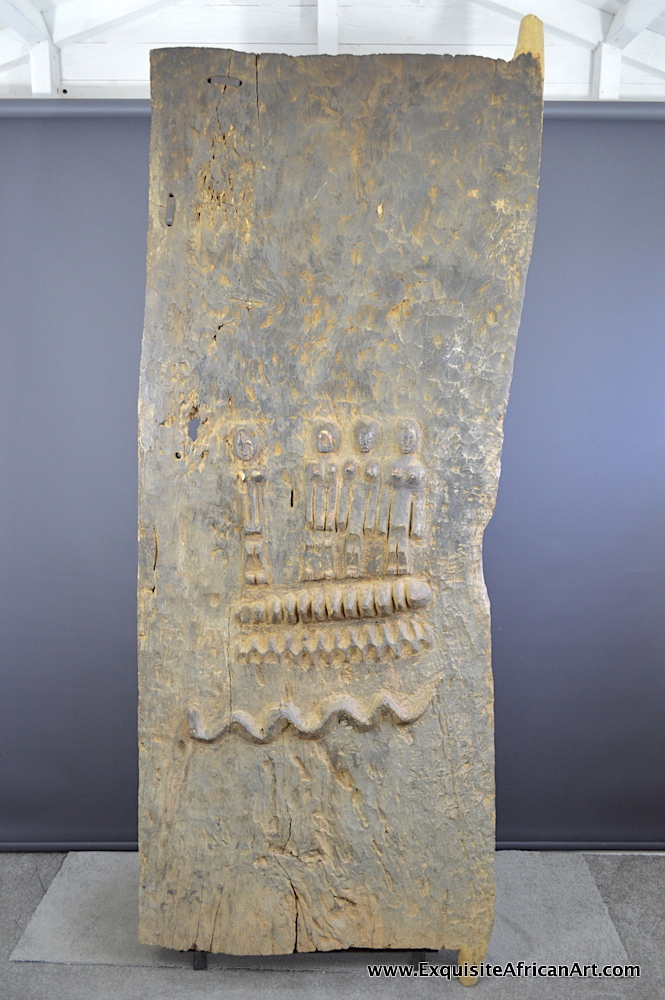 Tribe: Dogon
Origin: Pissa village, Mali
Approx Age: Mid 20th Century
Materials: Wood
Dimensions cm: 203 peg-peg x 78 wide
Ref. Number: 1442
Description:
A rare and very special Dogon Ginna door, the door was collected from the Ginna in Pissa village (not far from Bay Reserve, Burkina Faso border) in 1970 from a Dutch collector. A large solid door consisting of the Ginna Banga on the left and 3 other members of the Wagem cult and a snake representing 'Lebe". Lovely patina of years of opening and closing and circular markings to the rear of where the inner part of the original lock had spun around opening and closing over the years.
Provenance: Ex- Lampevelden collection, Netherlands, collected in 1970.
History
The social structure of Dogon villages is based on descent groups. Patrilineal families are each headed by a patriarch whose authority extends over all family members. They live in compounds neighbouring the Ginna, the residence of the patriarch (Ginna Banga). It is the village founder's house and the most senior member among his successors lives there. Large villages are divided into districts and each has its own Ginna, a two storied building with a façade showing rows of superimposed niches. The ancestor altar (Wagem) is located in a covered structure that gives onto the roof terrace: a set of bowls that serve as receptacles for the dead who come and drink there. It is a place where Ginna members commemorate the recently dead and distant ancestors who are long forgotten. Each bowl represents an ancestor. The founder, his successors and the other men of the village all have their own bowl. It serves as a receptacle for their souls. The purpose of the Wagem cult is for men to stay in contact and maintain a dialogue with their ancestors. On different occasions family members will make sacrifices on the altar. The Ginna Banga is in charge of the cult.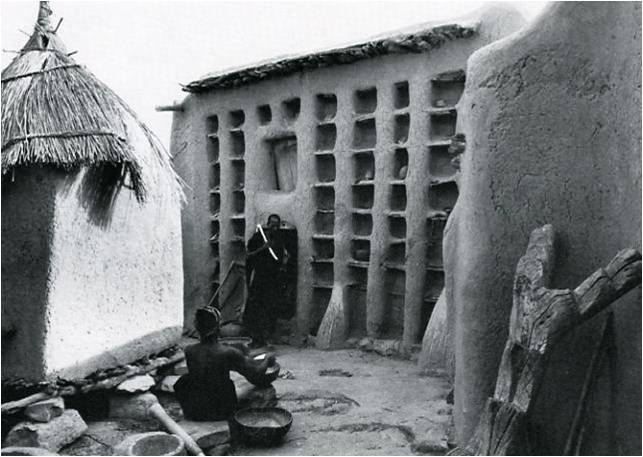 Contact Exquisite African Art