According to oral tradition, this "deer" mask was the first mask to be carved by the Dogon. Its origin myth tells of a farmer that killed a deer that destroyed his crops, then placed the animals head on an altar to ward off its spirits vengeance.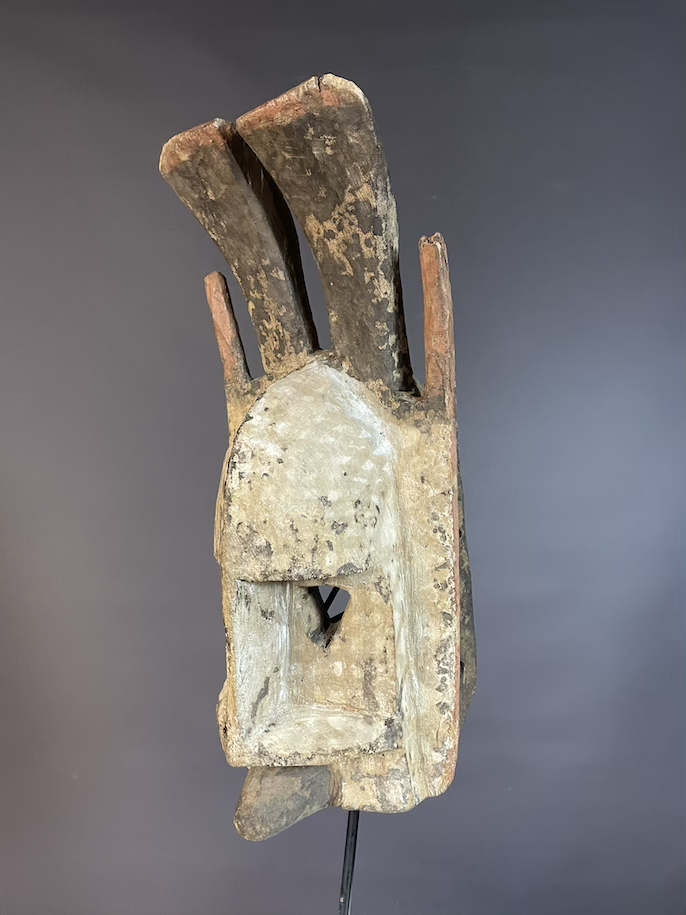 Tribe: Dogon
Origin: Mali
Approx Age: 1950-60
Materials: wood and pigment
Dimensions cm: 41 tall x 18 at widest point
Ref. Number: 1749
Description:
A beautifully carved Dogon Gomintogo mask, lightly coloured with what would have originally been black markings, now which are very faded but the zig-zagging to the face and a criss-cross design to the forehead, dark /black pigment to the ears/horns with red at the tips and reg again to the outer ears and it continues to the outer flanking to the bottom of the mask. Triangular eyes and the traditional protruding mouth also darkened. To the rear of the mask, it is evident that this mask has had good wear, it has a nice patina, light but true.
Provenance: -Helmut and Marianne Zimmer, Zürich.  – Galerie Walu, Zürich
AHDRC N˚ ao-0180517-001
History
Gomtogo or Gomintogo
It's unclear what a Gomintogo mask is meant to depict, as there are some stories say that it was a rhinoceros and some say it was a deer!
The Gomintogo mask is worn by a dancer who holds a stick with which he scrapes the soil. It speaks about a Dogon myth of a farmer who, having captured the Gomintogo (referred to as some sort of monster)… rhinoceros ravaging his fields, cut off the Gomintogo's head and buried it to end the attacks. The son of the farmer was immediately seriously ill that Hogon priests prescribed sacrificial offerings were to be made in the form of a wooden mask representing the Gomintogo in an effort to cure and protect the spirit of the victim.
The Dogon are mainly known in western culture for their art. The unmistakably geometric, reduced to sparse design language turns her works of art into fascinating examples of traditional African art. But the Dogon also fascinate with their complex mythology, which is expressed in many cult and everyday objects.
The Dogon dance various types of masks that belong to the Awa societies and appear mainly on the occasion of the dama funeral ceremonies in honour of the ancestors. They represent animals, things or people and are made of plant fibres, fabric or wood. They are symbolically derived from the approximately 10 meters long, snake-shaped mother mask, which is displayed for 6 days at special funeral services and is particularly honoured at the big Sigi festival, which only takes place every 60 years in honour of the ancestors.
Further reading: Bilot, Alain / NDiaye, Francine et al. (2001). Masques du pays Dogon. Paris: Adam Biro.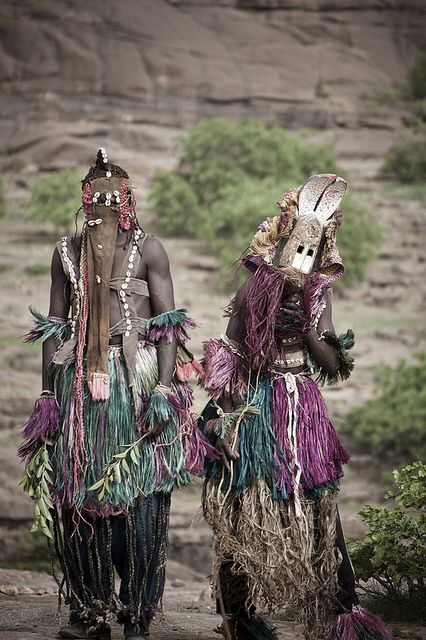 Contact Exquisite African Art