Stunning Dogon granary door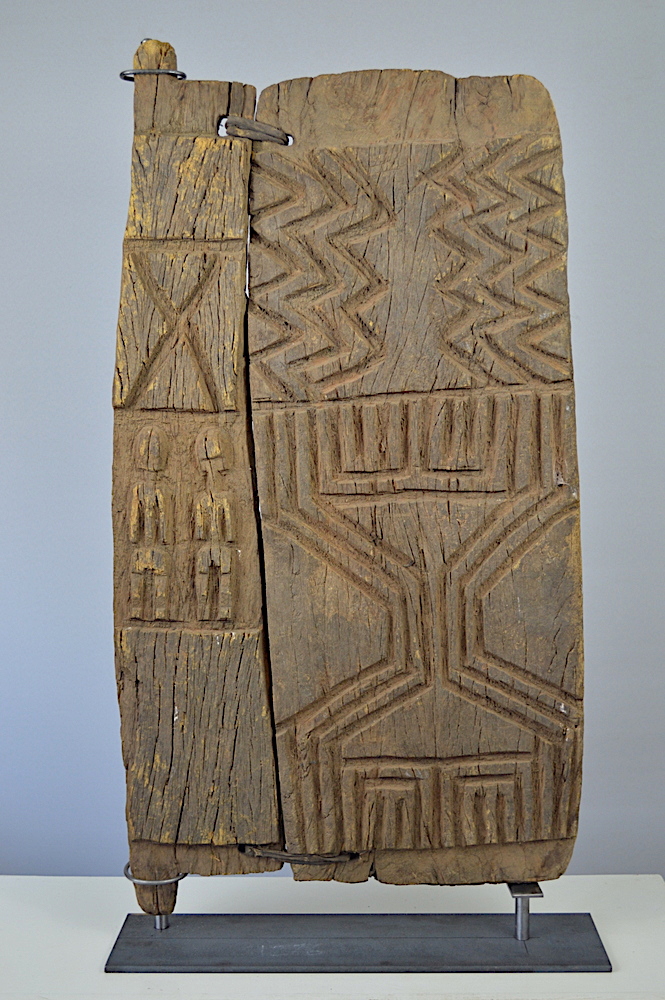 Tribe:
Dogon
Origin: Mali
Approx Age: Mid 20th Century
Materials: Wood
Dimensions cm: 70 tall (peg-peg) x 37 wide
Ref. Number: 1276
Description:
This Dogon granary door is remarkable by its simplicity of design: two human figures, the signs of water and the symbol of heaven and earth (comparable to the Kanaga mask). These symbolize a strong magic and spiritual force. This force is, according to beliefs' animists of Dogon, imparted to the door. In the Dogon myth of the creation of the Earth, the Amma god bore a being figure known as Nommo.
Provenance: Adama Poudyougo, Kani-Kombole, Mali. Lampevelden collection Netherlands since 1976.
History
This granary door has been carved in the older simpler style, contrary to the popular, but more complex, designs of to-day. They have been vetted as authentic, with signs of significant age. This door protected the window-like opening into each family's grain storage building. Primordial beings, ancestors, water linked to the earth symbol served to protect the entrance by making it sacrosanct. The figures are carved on two panels, held together by leather. strips. These doors are well used and as a result, have a beautiful eroded patina.
Dogon buildings are a unique architecture of sculptural mud-built huts, altars, distinctive tapering granaries for each sex, each with a pointed cap of thatch, and meeting houses (Diakite, 1988; Hollyman & van Beek, 2001). The granary doors are small and are placed midway up the granary wall. It provided access, throughout the year following harvests, to the goods stored inside (millet, sorghum, rice, corn). The Dogon granaries are narrow, four-sided or round, with a structure made of wood and covered with cob, and generally a thatch roof or a terrace roof