A slender Dogon iron Ginna figure traditionally placed next to the altar of the Ginna.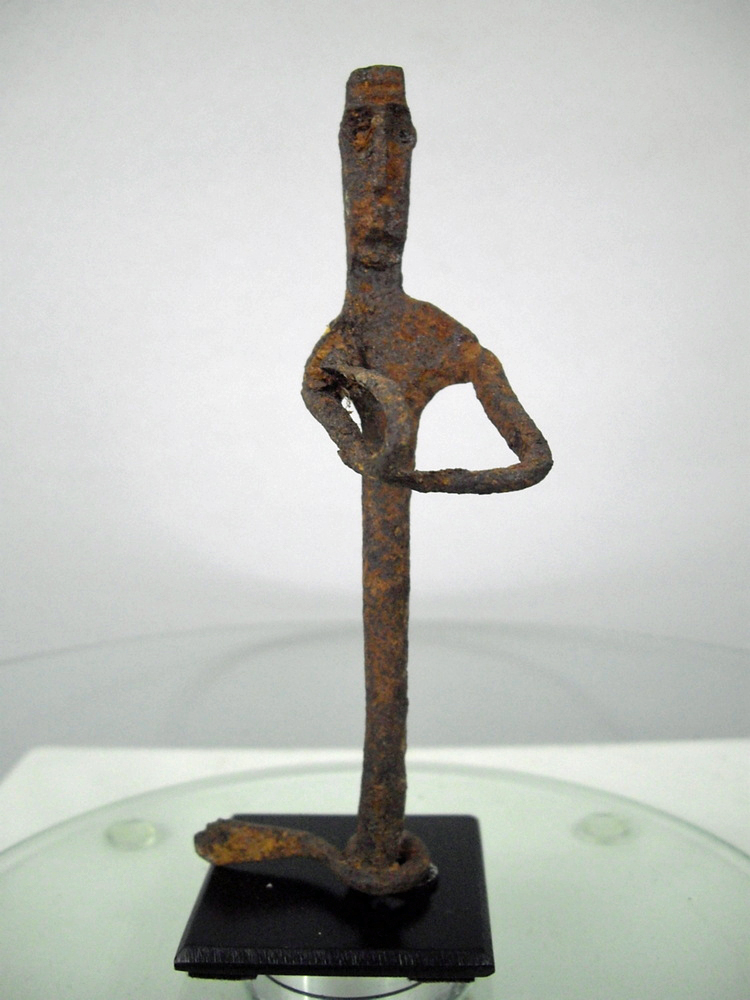 Tribe: Dogon
Origin: Mali
Approx Age: Mid 20th Century
Materials: Iron
Dimensions cm: 13 (tall)
Ref. Number: 1323
Description:
This Dogon Iron Ginna figure presents with prominent facial features, long lower body with the absents of legs but represented in a twisted coil which within the Dogon culture is thought to represent ' Lebe' the snake. One arm wrapped around the body with the other folded back on itself. Nice patina due to this figure having been libated. 
Provenance: Ex Lampevelden Collection Netherlands.
History
Very aged iron piece, collected by a Dutch collector in the 1970's who was working in Dogon villages fitting irregation systems for them.
Iron figures exhibit the techincal skill and artistry that the Dogon blacksmith brought to their work. They would do the smelting to get the iron from iron ore, then heat and hammer out both the tools and weapons used and the important ritual objects/figures. Nowadays, the Dogon blacksmiths forge mainly scrap metal recuperated from old railway lines or car wrecks. So, little by little, the long process of iron ore reduction, which demands a perfect knowledge of fire and its temperatures, has been abandoned.
Each of these figures presents the skill of the blacksmith as can be seen from the careful shaping of the individual shaping of limbs and facial features. The small figures are normally placed upright near the alter of the ginna, the big family house (Gina Na or Gina Da) of the village.