Absolutely stunning Dogon maternity figure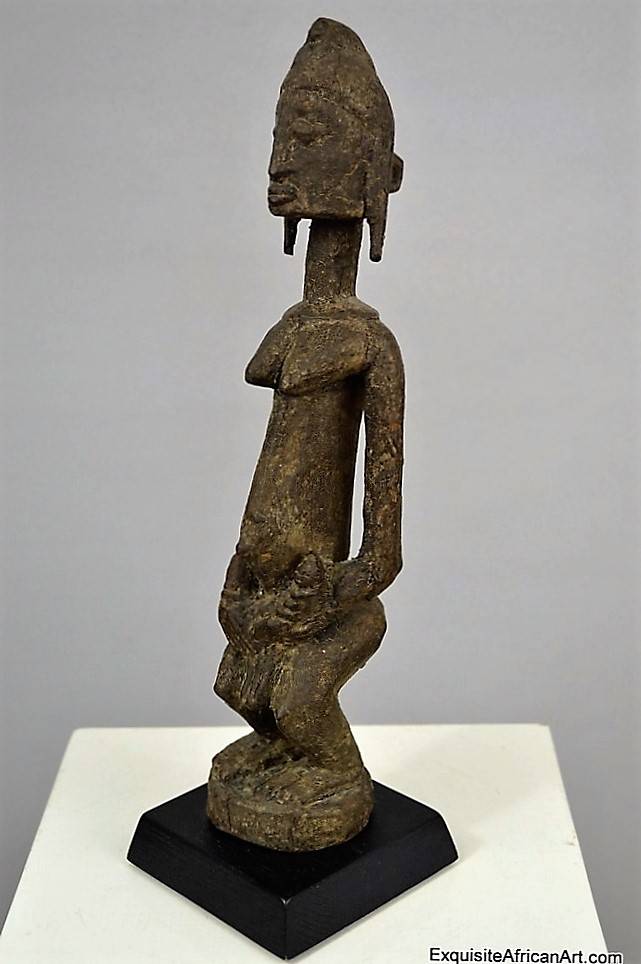 Tribe:
Dogon
Origin: Mali
Approx Age: 1939 – 1951 Scientifically tested (1945 +/- 6 years)
Materials: wood, sacrificial patina
Dimensions cm: 30cm, 32 on stand
Ref. Number: 0071
Description:
This old Dogon maternity figure represents in a fine work of art, the mythical ancestor and symbolically the feminine ideals of beauty and fertility. This kind of wooden statue was commonly used as shrine figures, in order to ensure births and prosperity to the village. This piece would have been kept on a Binu shrine in the village and would have been covered in sacrificial libations, and it leaves a lovely encrusted patina from this once crystallised. The chameleon on the top of the head and the baby in her arms are not so prominent now due to sacrificial libations and her left arm has a very old repair (near baby).

This piece was sent to Museo d'Arte e Scienza (Germany branch) for analysis and certification of age by Dr Martin Matthaes.  http://museoartescienza.com/en/history/
Provenance: Used in the remake of the 1953 film "Statues Also Die", called "It For Others" by Duncan Campbell, which leads him to be the recipient of the Turners Prize in 2014.
History
Dogon Statuary Description, by Hélène Leloup
According to Hélène Leloup the style of this figure is an N'duleri maternity statue.
To our knowledge, the chameleon that crowns the head is equally unique; he is feared by women for he is said to have brought about sterility. He represents ambivalence since he changes colour and his eyes turn and see everywhere. But he is also a male symbol and if a sterile woman has the courage to bring two chameleons into her house, she will have children. Ambivalent also because he is said to have two types of teeth: A bite from the first leads to continued poverty; a bit from the second ensures one will always have food.
It has been documented that sacrifices were made to this type of statue so it would intervene so in the so-called chameleon illness (endigye djimun), when children die following terrible emaciation.