The Dogon Wirigo or Griwo mask are very similar in style to that of the Karanga mask which is owned by the Mossi people.
Tribe:
Dogon
Origin: Mali
Approx Age: Early – mid 20th Century
Materials: Wood
Dimensions cm: 120 tall x 14 wide
Ref. Number: 1414
Description:

A very rare mask, the Dogon Wirigo mask is also known as 'Griwo' in some parts of Mali, the 2 remaining Wirigo masks we have were collected by a Dutch collector in 1970. Beautifully arched in design oval faced with triangular eye holes and a wavy cut/carved outer edge. Very similar in shape to the Mossi Karanga mask.
Provenance: Ex- Lampevelden collection, Netherlands, collected in 1970.
History
The available literature is unclear as to the type of mask shown here. Without ever having presented photographic evidence, books and catalogues state that it belongs to a Karanga mask subgroup worn by the Mossi/Kouroumba. It has been suggested that the Dogon mask traditions are Voltaic in origin. Some masks share stylistic similarities with those of the Yatenga. Interactions among neighbouring peoples and especially among border zone populations account for these similarities but considering the lack of information available, there is no reason for assuming that Karanga (Mossi) and Wirigo (Dogon) masks are linked in any way.
Fortunately, some rare cinematographic material identifies this mask as being Dogon. In 1975, the filmmaker David Attenborough has filmed a series of documentaries on traditional art in Africa (The Tribal Eye). During the course of his account, one can see Dogon dancers who walk in a single file. Among them, a masked Wirigo dancer makes a brief appearance.
Tribal Eye, behind the mask, Here is a link to this documentary with Sir David Attenborough.
The Wirigo mask seems to be limited to the village of Dogo. It is located at the foot of the cliff at a short distance to the south of Kani Kombole. The villagers also say that they took part in the last Sigui in the 1960/70s, but the Wirigo is of less importance today. Once very popular in funerary rites, it can still be seen at the local mask festivals. Its present use has come to an end with the growing importance of Islam in the area. As to the mask's significance, when asked, villagers are quick to reply: "It is our Kanaga".
Reference:  This article was written by Huib Blom for his book 'Dogon, Images and Traditions'. The photo was found on Pinterest which is also in this book of Huib's.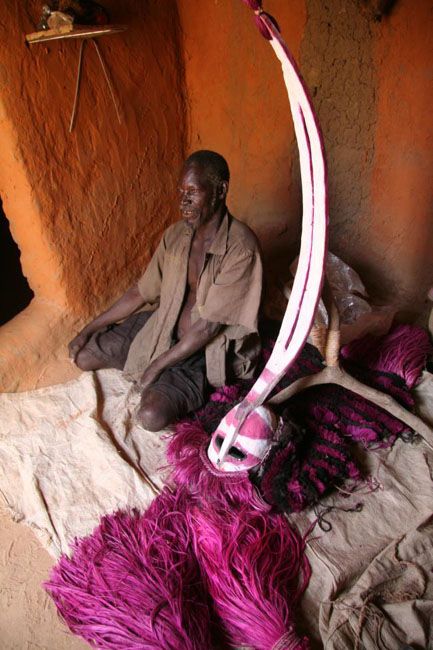 Contact Exquisite African Art