Ekoi Ejagham headdress or Crest Mask
The oldest Cross River secret society may be the all-male Ngbe society of the Ejagham people.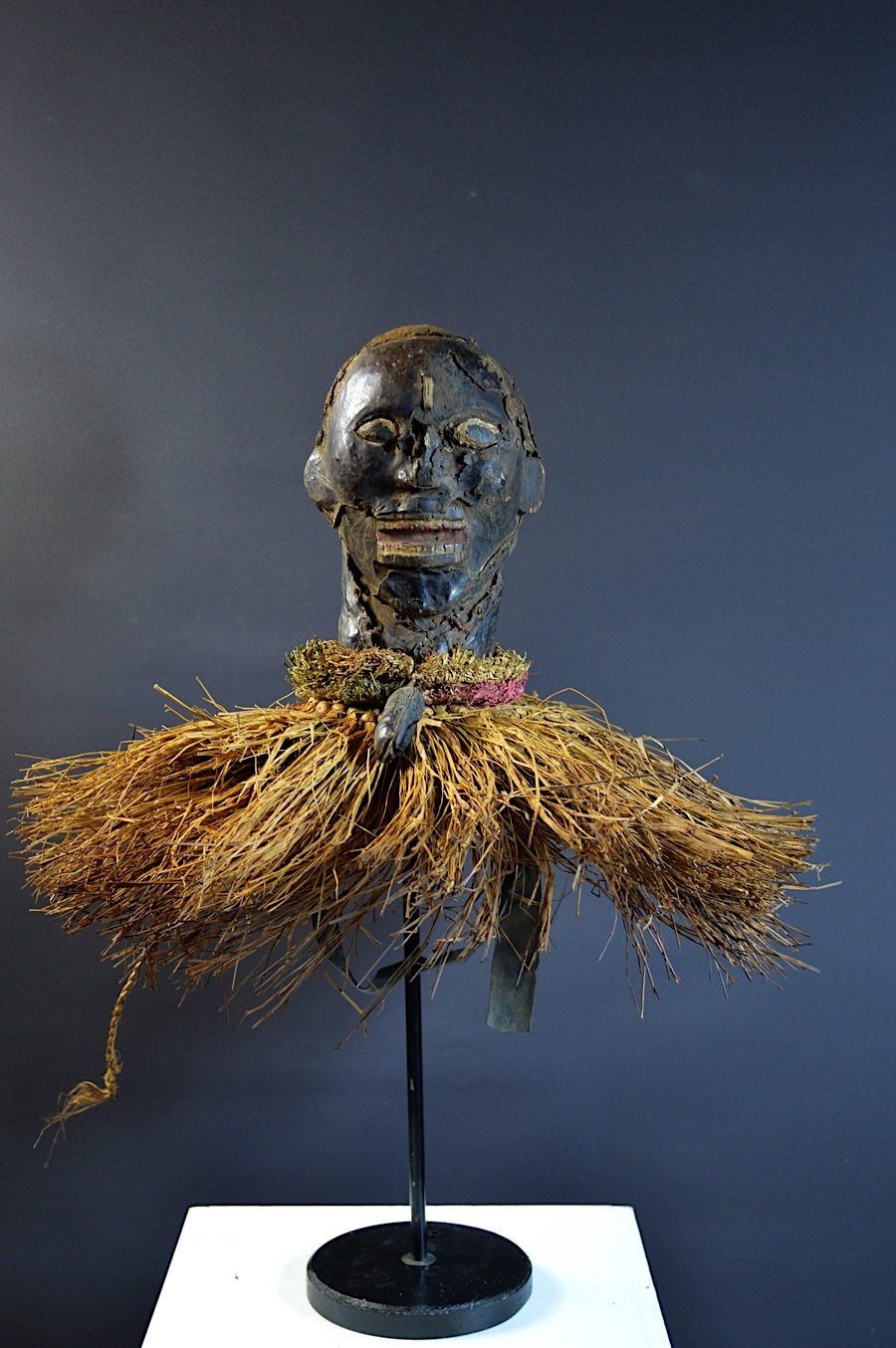 Tribe: Ejagham
Origin: Cross River in South-East Nigeria/Cameroon
Approx Age: 1960s
Materials: Wood, skin, raffia
Dimensions cm: 31 tall x 21 wide x 14 depth
Ref. Number: 1510
Description:
A skin covered Ekoi Ejagham Janus headdress or crest mask from the Cross River region in southeast Nigeria, and over into Cameroon. The important art forms of the Ejagham people are connected with the institution of the Ntoon and with the men's and women 's associations. These skin-covered headdresses (crest masks) are carved with one, two or even three faces.
History
These exceptional headdresses are owned by associations whose members are men or women of the same generation but membership is often further restricted to those who have performed certain feats or are proficient in particular skills. In the past, for example, there were associations of hunters and of men who had killed leopards. The masks, which bear the same name as the society that owns them, are worn during funerals, initiations and other events. Some are startlingly naturalistic and may be portraits of known individuals; others are highly stylized.
There are two principal types of masks: helmet masks that cover the wearer's head entirely and crest masks often referred to as headdresses, which are attached to basketry caps worn on the top of the head. Both types were made by an artist who carved the form from a single piece of wood and covered it with soft, untanned antelope skin that had been soaked in water for several days. He stretched and tacked the skin into place until it dried and stiffened. Eyes, scarifications, and human hair were often carved or added separately and pegged into the finished piece. 
Contact Exquisite African Art