Igbo/Ibibio Ekpe Society Mask
This style of mask is very difficult to decipher between Igbo and Ibibio as they are so closely related neighbours, both tribes having an Ekpe society and similarities in some masks.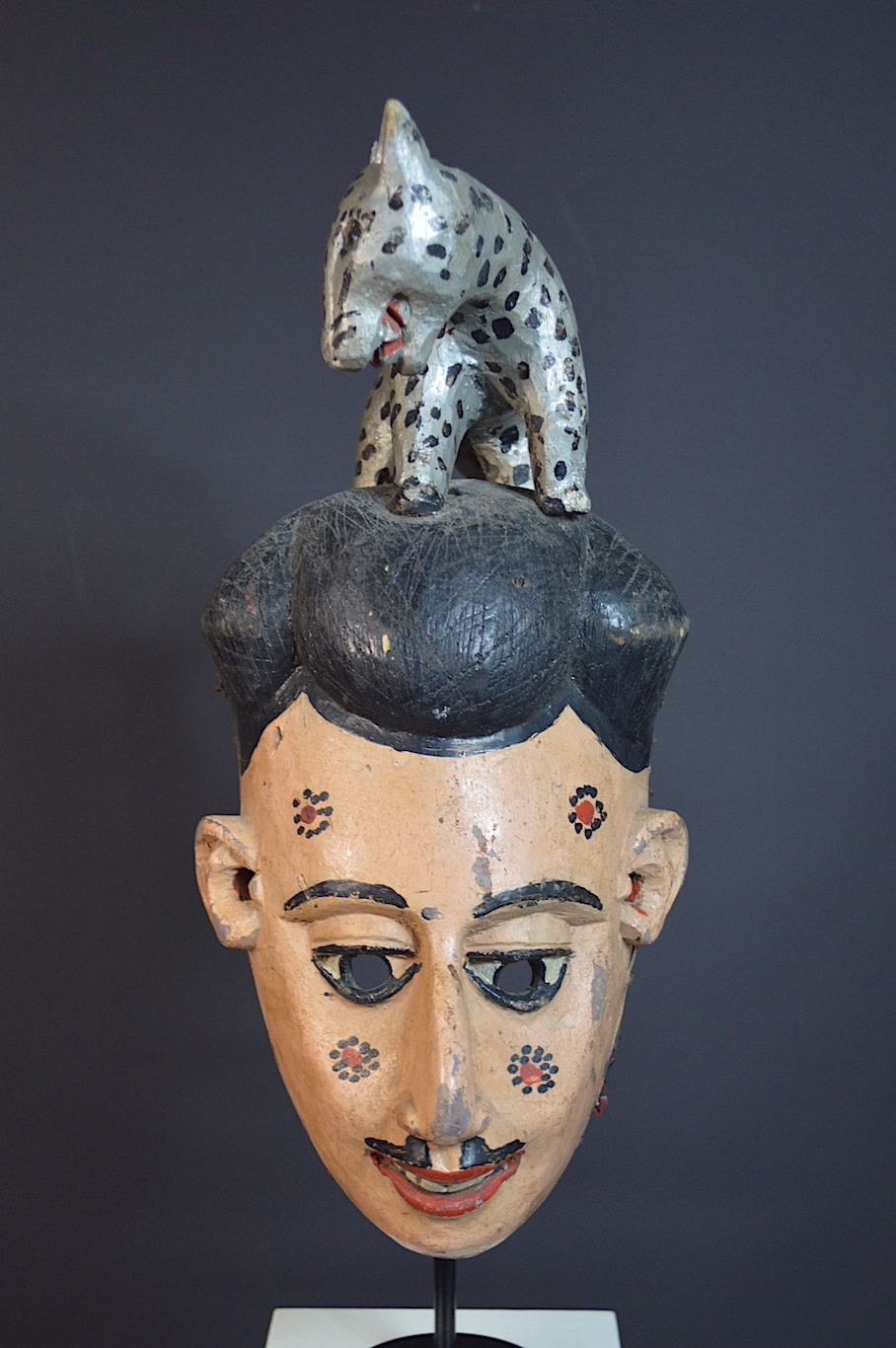 Tribe: Igbo/Ibibio
Origin: Nigeria
Approx Age: 1970's
Materials: Wood
Dimensions cm: 45 tall x 21 wide x 30 depth
Ref. Number: 1808
Description:
a very human-like Igbo Ekpe mask from Nigeria. A hooded mask that sits on the head and would have had a cloth on the sides and rear which remains are still visible. Surmounted with a leopard on top of the carved coiffure with incised markings denoting hair, painted moustache depicting that this is a male mask.
Provenance: Ex-Irish private collection
History
Igbo/Ibibio. It is very difficult if not impossible to differentiate the masks of this style from each other between these two tribes. This is because they are closely related neighbours and share some masquerade institutions. Igbo masks of this type are used in Ibibio and vice versa. The leopard is symbolic for both, especially in areas that are dominated by the Ekpe (leopard) masquerade society which exists in both Ibibio and bordering Igbo areas among others.
Reference: Don Nazito.
Igboland holds many festivities and cultural performances, most notably the masquerades and the new Yam festivals.
Masquerades (Mmanwu) are held in accordance with the community native calendars during festivals, annual festivities, burial rites and other social gatherings. The masquerades are geared in colourful robes and masks made of wood or fabric. Some masks appear only at one festival, but the majority appears at many or all. Masquerades are associated with spiritual elements, as according to Igbo belief, they represent images of deities or sometimes even dead relatives. The identity of the masquerade is a well-kept secret and performed exclusively by men.