Okoroshi masks are used in ceremonies to honor the water-spirit Owu, an important figure in Igbo spiritual life.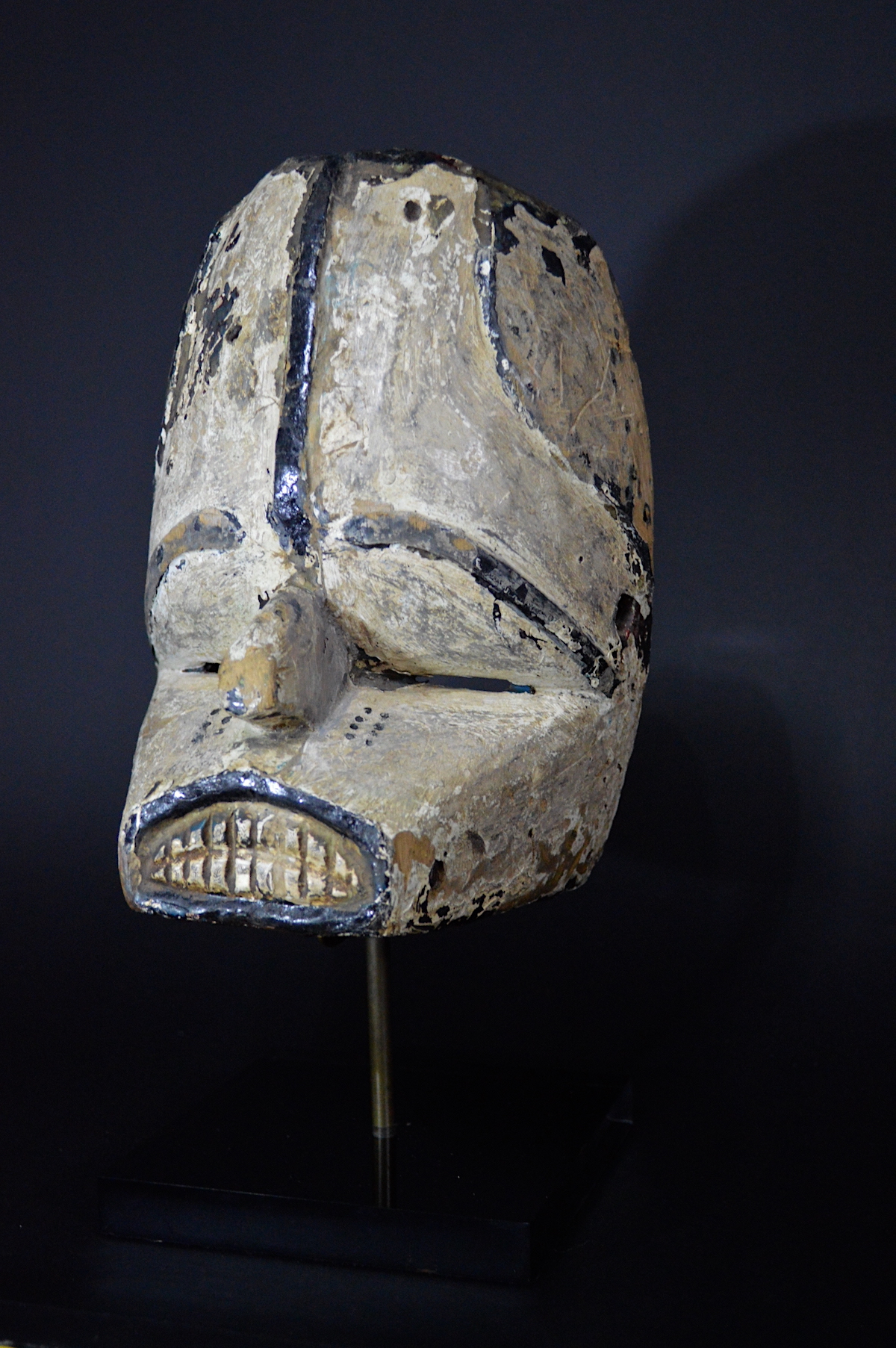 Tribe: Igbo/Ibo
Origin: Nigeria
Approx Age: Early 20th Century
Materials: wood
Dimensions cm: 20 x 15.5
Ref. Number: 1838
Description:
An old and very traditional Igbo Okoroshi mask from the late Romy Rey collection, London. This also has much older collector's numbers on the rear G284 and 160. This also appears to have had a superstructure on the top of the mask at an earlier date which has now been lost.
Provenance: Ex- Romy Rey collection, London.
History
Igbo Okoroshi masks are earthly manifestations of the Owu water spirit cult, worn during the six-week rainy season, they are said to descend from the clouds,  the female spirits Okoroshioma (oma = "good, beautiful") from benign white cumulous clouds, the dark spirits, Okoroshiojo (Ojo = "ugly, bad, wicked") from threatening dark rain clouds. Their six weeks of activity are meant to stimulate the productivity of growing yams and fertile women, and to prepare the community for the eating of New Yam, just after the masking season terminates and the spirits return to their cloud homes in the sky. Okoroshi "marks the calendar," as people say. Four or five white female maskers dance only in clear daylight and usually in large plazas for, it is hoped, large audiences.
 Most days in this masking season are populated by many dark masks… as many as seventy or eighty might come out, many of them repeatedly, in the daytime or at night, mildly harassing people, especially women.
Most masks are danced by young men; dozens of dark masks can appear in one season. They have a great variety of names in many categories: varied human types such as strongman, spy, challenging, witch, traveller; animals such as leopard, snake, rat, hawk,  and porcupine.
—-Igbo, by Herbert Cole.