Stunning Kuba drum bearing the hand showing association of "iyol" soldiers society.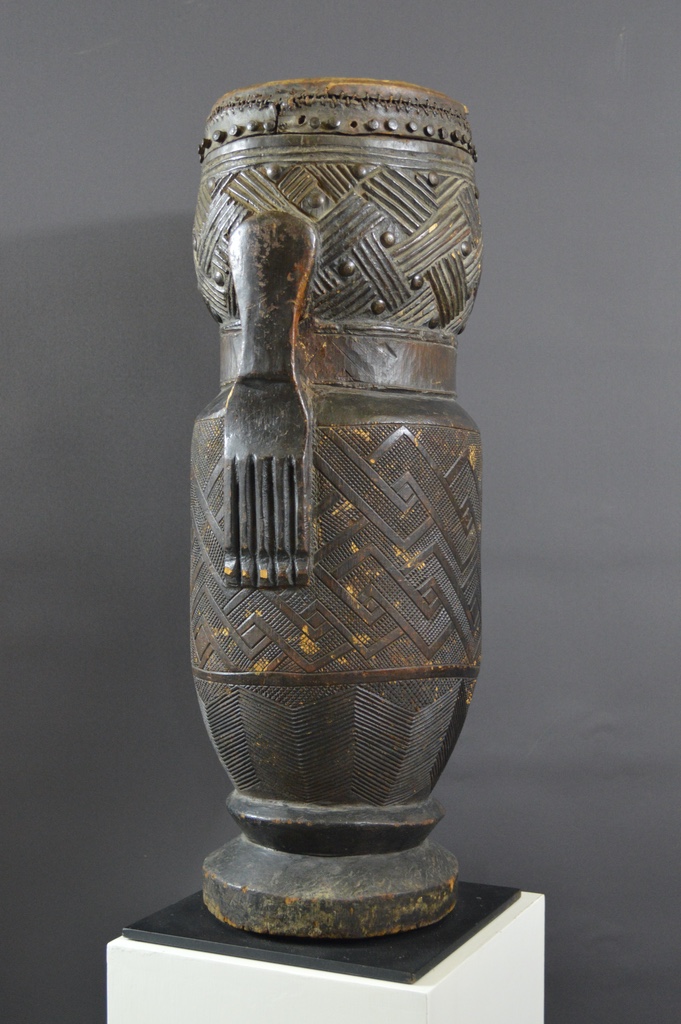 Tribe: Kuba
Origin: DR Congo
Approx Age: Mid 20th century
Materials: Wood, animal hide
Dimensions cm: 53 tall x 18 wide
Ref. Number: 1613
Description:
Beautifully designed Kuba drum, typical geometric incised carving to a very high standard. Animal skin stretched over the head of the drum stiched and pegged to secure in place. Each peg hand carved also to a high standard. On this style of drum, a hand is carved showing its association with the " iyol" soldiers society.
Provenance: Ex Private Collection Scotland
History
The Kuba produced a variety of musical instruments but non more prevalent than the drums. Drums being used for many occasions from dances, masquerade performances, initiation, and funeral processions.  The Kuba carved many different styles/types of drums, both short and long forms, slit drums, and the friction drums which would be concealed by cloth during the funeral rites of men belonging to the initiation society. The most profusely decorated drums were owned by prominent individuals or initiation societies. This style of Kuba drum shows the carved typical geometric designs more so recognized on their textiles but with the addition of the carved hand on the front showing the association to the "iyol" soldiers society. A society that would require in its initiation an enemy's arm to be presented to the leader. Some of the larger drums would be carved with elongated handles to assist in lifting and carrying, some handles would be carved to depict abstract human heads resembling masks or elongated torso indeed an arm with an enlarged hand. 
https://search.library.wisc.edu/digital/ARPBTZIEHNRR7X8