Kuba Mbup Royal Ceremonial Headband
A tribal piece of ceremonial jewellery, Kuba Mbup royal headband worn by Kuba royality.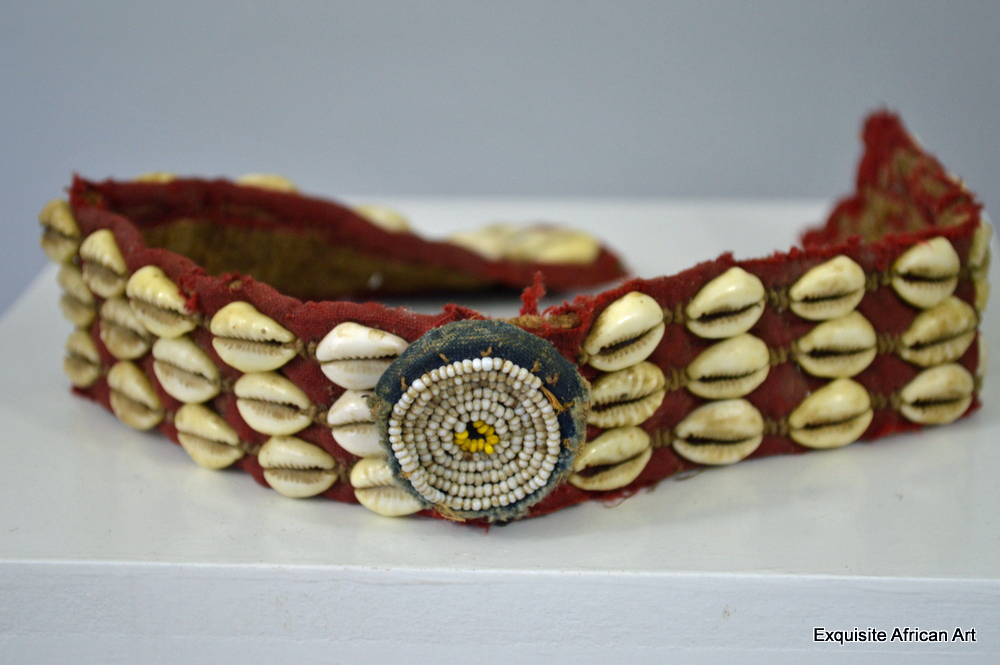 Tribe:
Kuba
Origin:
DRC
Approx Age:
Mid 20th Century
Materials:
Glass Beads/Cowrie Shells/Hessian fabric
Dimensions cm:
43 long x 4 wide
Ref. Number:
0372
Description:
A beautiful and old Kuba Mbup royal headband from the Democratic Republic of Congo. A tribal piece of ceremonial jewellery worn by Kuba royal families, this is a headband called "Mbup"   These are on a textile backing adorned with glass beads, and cowrie shells on a red material with string ties. They were the sign of powerful and wealthy persons.
History
Kuba (also called Bakuba) people are agriculturalist and a cluster of Bushong-speaking ethnic groups of the larger Bantu ethnicity living in the southeastern Democratic Republic of Congo between the Kasai and Sankuru rivers east of their confluence.
The Kuba are surrounded by other tribes such as the Suku, Yaka, and Pende (Cole, 381). Kuba who are well-known for their advance ritualistic sculptures and masks is composed of eighteen groups located in the southernmost part of the Great Equatorial Forest; which is on the border of the tropical forest and the open Savannah.
Apart from the Bushong speaking principalities, other Kuba people includes the Kete, Coofa, Mbeengi, and the Cwa Pygmies. The Kuba people always refer to themselves as the Bakuba which translates to "people of the throwing knife" (Washburn , 17).
When the kingdom of tribes was first brought together, the people were ruled by the Bushong people from the hill country of the central Congo (Caraway); these people have contributed most of the rulers to the Kuba. Whenever a king dies, the capital is moved to the location of the new King (Washburn , 19). Intertribal trading often occurred  due to the fact Kuba were such a powerful empire (Meurant , 121). Supernatural powers are the basis for the beliefs; spells, witchcraft, and channels between the living and the dead are some of these powers. The king is the chief of the sorcerer's and bridges the boundary between the natural and the supernatural (Meurant , 122).
Contact Exquisite African Art