Kuba Nchak dance skirt is also known as Ntshak. Made of three panels of woven raffia. Ex Seward Kennedy Collection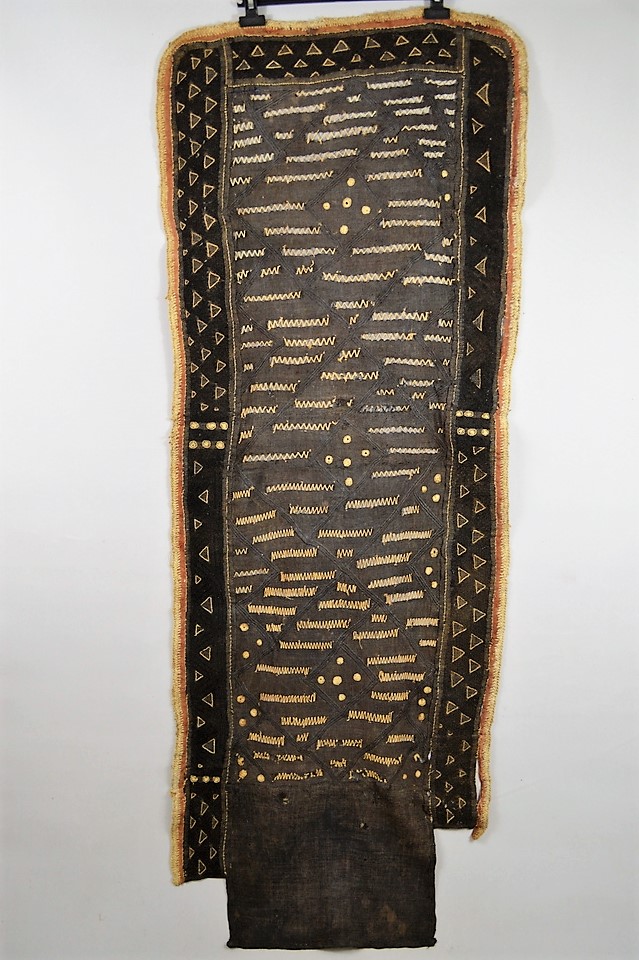 Tribe:
Kuba
Origin: DRC
Approx Age: Mid 20th Century
Materials: Raffia
Dimensions cm: 160 x 59
Ref. Number: 1103
Description:
Stunningly elaborate rare Kuba Nchak Dance Skirt. Beautifully made by the Kuba people of Democratic Republic of Congo. The dance skirt, Nchak is also known as Ntshak. Made of three panels of woven raffia,  with a delicate embroidered pattern/design, surrounded or edged with wide strips of cut-pile textile. These strips also embellished with embroidered triangles and circles.  Being made using a black dyed raffia along with the "ajour"  work in the middle makes this dance skirt a little more unusual / rare.
Provenance: Ex Seward Kennedy Collection.
History
The Nchak for ordinary day-to-day wear is a white or red garment worn wrapped around the lower body and held at the waist or beneath the breasts by a folded band of cloth or belt made of twisted fiber. Nchak used by women in ceremonial dances are considerably longer than those used for every day wear. Some Nchak dance skirts can be as long as fourteen to thirty feet long being made up of anywhere between six to twelve panels. However today Nchak are made up of square or rectangular pieces of cloth sewn together lengthwise and assembled in such a way as to show off the unity of the panels or of their lateral movement, which is accented either by the use of alternating panels dyed red or black, or by sewing together panels of different dimensions.
It is not rare today to see Nchak dance skirts made up of both old and recently made panels. The quality of the workmanship involved, and particularly the skill with which the patches are applied and their placement, is and can be a good indicator of whether a particular skirt is old or not.
.