Kuba textiles are woven by men and embroidered by women.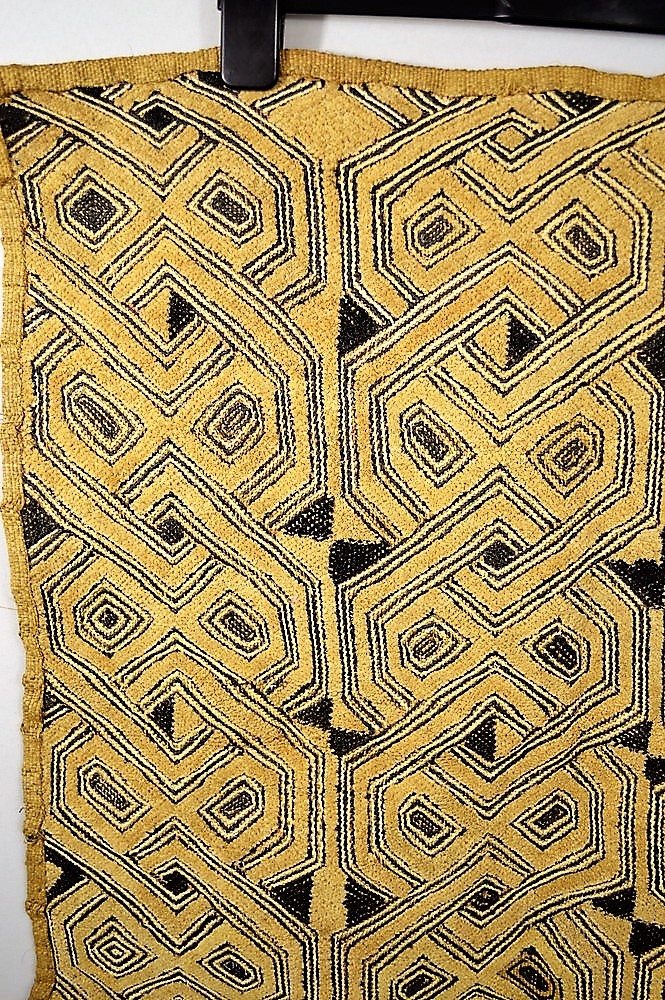 Tribe:
Kuba
Origin: DRC
Approx Age: Late 20th Century
Materials: Raffia
Dimensions cm: 69 x 55
Ref. Number:0873
Description:
A lovely Kuba Textile made by the Kuba people of the Democratic Republic Of Congo. The most commonly known of the Kuba textiles are the cut-pile Shoowas or Kassai Velvets, named after the river along which the Kuba live. Work on high quality velvet can last a month or even more. Textiles are woven by men and embroidered by women.
History
Raffia, which comes from the raffia palm is a notoriously difficult medium and it has to be softened before it can be sewn into a large cloth. Soaking and pounding are the most common way to achieve this.  It is the men and young boys who collect the palm leaves then strip and split them by hand or with combs while the women will split and smooth the fibers with snail shells. Once the fibers have been made more pliant they would be wound into skeins. It is the length of the skeins that will determine the size of the cloth produced as strands are not tied. This process completed it is job of the men, who are responsible for the weaving. The women must do the dying of the cloth in preparation for the embroidery. Most common colours include ecru,black,brown and red. Dyes are created from local plant sorces.
Women then begin. The embroidery is laid on a basic square of raffia cloth. The weaver will then pass a strand of raffia thread through a needle and then pick it in and out of the cloth underneath the warp and the weft thread. At the end the strand is cut with a small knife so that only a few millimeters remain visible. The weaver will repeat this process until a linear block of the same colour has been completed. The work continues until the entire base cloth is concealed by the embroidery. The combination of blocks produces the interlaces and knotted, undulating designs. Improvisation and irregularity characterize the Kassai Velvets. This is because the weaver works without a pattern, plan or sketch holding the design in their head alone. Often the design is built up from memory, commonly geometric patterns, repeating the most common designs and colour combinations found in the region. Finished Kassai Velvets resemble densely embroidered rectangles, usually around 46cm x 60cm. Some of these cut-pile textiles are very fine, while others are much thicker and plusher. The most richly coloured and patterned Kuba Textile, Kassai Velvets, are made for the Royal nobility of the Kingdom.