Attractive traditional N'debele Apron, made of thousands of small glass beads.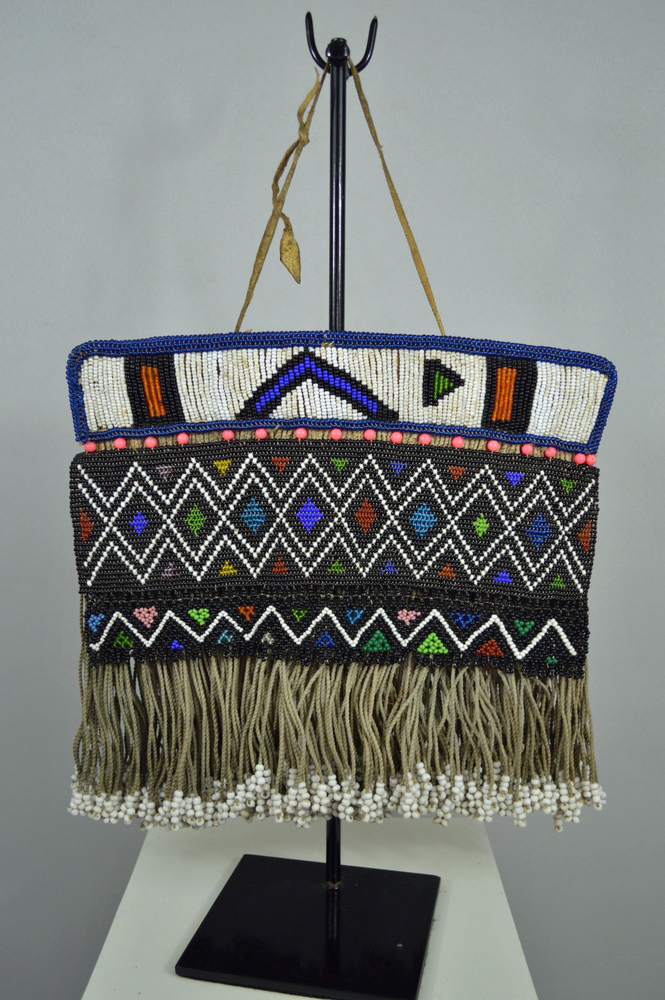 Tribe:
N 'debele
Origin: South Africa
Approx Age: Mid 20th Century
Materials: Cloth/Glass Beads
Dimensions cm: 29 x 26
Ref. Number: 0413
Description:
Attractive traditional N'debele Apron. Made of thousands of small glass beads and interestingly patterned apron from the N'debele tribe who come from South Africa. The main beaded area is worked in black beads with diamond shaped bead work carried out in yellow, blue, green and red beads outlined with white beads. A stunningly, heavy beaded fringe adds movement to the bottom edge of this n'debele apron.
History
Ndebele, South Africa is one of the smallest tribes in South Africa They are known for their geometric designs on their painted houses and this follows through to their bead work. The Ndebele women are some of the best known bead workers in Africa, having worked with beads for hundreds of years. Like all South African tribes, bead work of the Ndebele is an identifier of the age, sex and marital status of the wearer to anyone who can read the "code". This fine fringed iGabe or "ghabi" apron is worn by young girls to puberty. The size and shape of an Ndebele woman's apron communicates information about her status in life . Ndebele bead work is essentially part of female ceremonial costume. Beads are sown on goat skins, canvas, and even hard board nowadays, and worn as aprons.