Nupe Stool from Nigeria, showing a beautifully carved seat of circular form with a geometric design.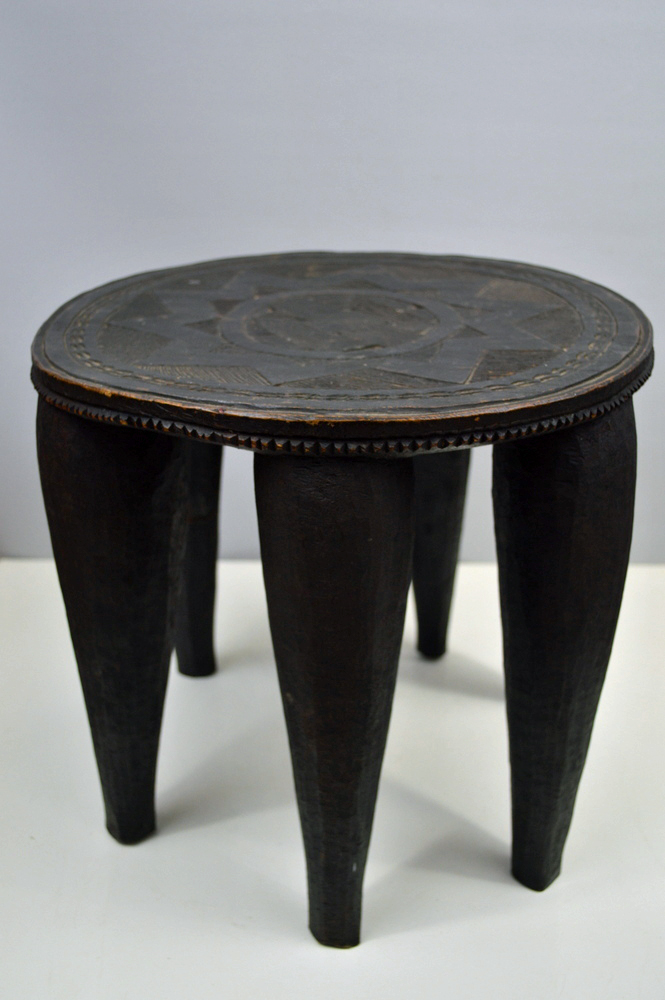 Tribe:
Nupe
Origin: Nigeria
Approx Age: Early – Mid 20th Century
Materials: Wood
Dimensions cm: 36 (tall) x 40 (wide)
Ref. Number: 1011
Description:
An outstanding Nupe Stool from Nigeria. Showing a beautifully carved seat of circular form with a geometric design which is typical of the Nupe stool. Being carved out of one piece of wood, the numerous legs that support the seat make it a wonderfully stable stool. This has sustained a break on one leg at some point in its life as it shows a repair, please see photos.
History
Nupe stools are characterized by fine geometric carved designs upon the seat. They may be round or oval or rounded rectangles. The round ones often have 6-8 legs, each of which tapers down to the end. This stool has an intreging history and provenance.
Provenance: This lovely tribal stool belonged to Constance Ethel Amos. Being born in Peckham, Middlesex in 1880. Constance was recorded on the 1911 census as a hospital sister in Peckham, aged 30. Red Cross records show that she worked for them from 1917 – 1919 aged 36. Dying on 14th October 1930 in Acton Isolation Hospital, Acton Middlesex. At some time in her life Constance spent a period of time in Nigeria and brought back various artefacts including the Nupe tribal stool. It is not known the exact dates of her travels or return from Nigeria but it was before 1930.
Contact Exquisite African Art