Rare Bangwa Ritual Elephant Figure
The people of the Bangwa are one of the numerous smaller ethnic groups within the large Bamileke complex.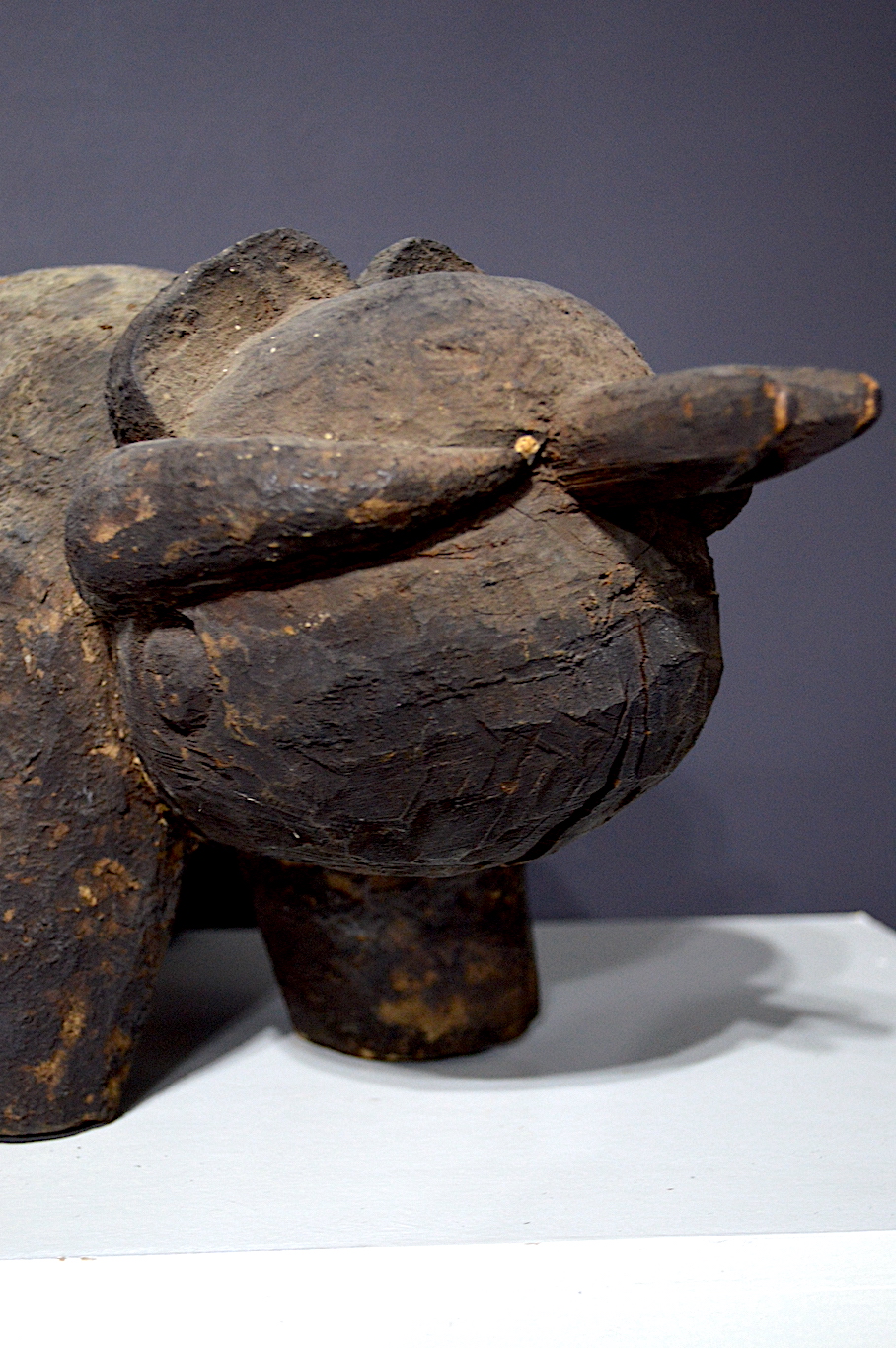 Tribe: Bangwa, Bamileke
Origin: Grassfields, Cameroon
Approx Age: 19th Century
Materials: Wood
Dimensions cm: 55 long x 23 widest point
Ref. Number: 1784
Description:
A very rare Bangwa ritual elephant figure or sculpture from the Grassfields of Cameroon. A lovely show of an encrusted patina from ritual libations. This piece was collected by Pierre Harter in the field and is documented in the "Pierre Harter files", now in the Musée du Quai Branly – Jacques Chirac, Paris.
Provenance: Ex-Pierre Harter (1928- 1991) Paris, France.
AHDRC N˚ ao-0178326-001
Exhibited: Tribal Art London Exhibition 2022.
History
Most of the documented Bangwa figures are royal portraits, which are kept in royal shrines along with the skulls of the ancestors and the infamous frightening masks associated with the Night society are employed by the chief to maintain social order. As this is the only documented ritual elephant (to my knowledge) I would only imagine it sat with the other ritual figures and masks.
The Cameroon Grasslands is a large cultural area, which is inhabited by a large number of related peoples. These peoples can be divided into three smaller subgroups: Bamileke, Bamum, and Bamenda Tikar. The Bangwa are one of the numerous smaller ethnic groups within the Bamileke complex. They are loosely affiliated with other groups in the complex, sharing many historical and political similarities while retaining their separate identity. All members of this group originally came from an area to the north and migrated in various complex patterns throughout the last several centuries. Fulani traders moving steadily southwards into Cameroon in the 17th century forced the southern drift of most of the current residents. The Bangwa were only officially separated from the Bamileke during colonial administration during the early 20th century.
References: IOWA Art & Life in Africa. https://africa.uima.uiowa.edu/peoples/show/Bangwa
| | |
| --- | --- |
| Photo by: | Unknown |
| ©: | Musée du quai Branly – Jacques Chirac, Paris, France |
| Courtesy of: | Pierre Harter files |
Contact Exquisite African Art