Senufo ring chunky and made of brass coming from the Senufo people, Ivory Coast.
Tribe:
Senufo
Origin: Ivory Coast
Approx Age: Early 20th century
Materials: Brass
Dimensions cm: 3 (H)
Ref. Number: 1598
Description:

Senufo ring made of brass with an intriguing style and depiction of a creature perhaps a buffalo. Chunky in appearance with signs of being worn. Having been in a collection for numerous years has kept this lovely item of Senufo jewellery in very good condition.
Provenance: Estate of Rene David (1928-2015), Zurich.
Exhibited:  Musee International du Golfe de Guinee, Togo (2005-2011)
History
Jewellery in all forms has accompanied and fascinated people of all cultures for as long as we can remember the Senufor people being of no exception. From a cultural point of view, bracelets, anklets, necklaces and finger rings are so much more than just jewellery. These precious items are not just valued for their beauty but regarded as objects of worship as magical and protective powers. Recognised as symbols of rank and affiliation of the wearer. In some ethnic groups and cultures, fortune tellers have been known to prescribe an item of jewellery to keep away evil spirits. Different creatures or designs being representative of their own unique protective meaning and protective powers.
Jewellery in its most simple form is used to adorn the wearer whether to help provide them with extra strength, magical powers, protection from evil spirits, the show of wealth and fortune or simply to make the wearer feel happy and more attractive. All of these reasonings are very meaningful and hence gives the item of jewellery its own very precious meaning.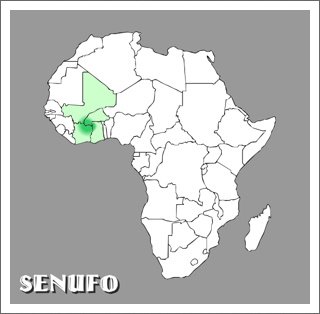 Contact Exquisite African Art