Wodaabe Ostrich Feather Headdress
Endearing Wodaabe ostrich feather headdress.
Tribe:
Wodaabe
Origin: Niger
Approx Age: Mid 20th Century
Materials: Material/Ostrich feathers
Dimensions cm: 30 (tall) x 15 (wide) not including tails
Ref. Number: 1338
Description:
Simple with a glamour appeal Wodaabe headdress. Made with a padded material covered headband. The material is wound around the headband with longer strips of material to both sides. The long strips/tails are used to fasten the headdress around the head. One large and one small ostrich feather are inserted into the middle of the headband giving both strong visibility and adding a touch of elegance and glamour.
Provenance: Hans van Drumpt collection.
History
At the end of the rainy season in September, Wodaabe clans gather in several traditional locations before the beginning of their dry season migration. The best known of these is In-Gall's Cure Salee salt market and Taureg seasonal festival. Here the young Wodaabe men, with elaborate make-up, feathers and other adornments, perform the Yaake: dances and songs to impress marriageable women. The male beauty ideal of the Wodaabe stresses tallness, white eyes and teeth; the men will often roll their eyes and show their teeth to emphasize these characteristics. Wodaabe clans then join for the remainder of the week-long Gerewol: a series of barters over marriage and contests where the young men's beauty and skills are judged by young women.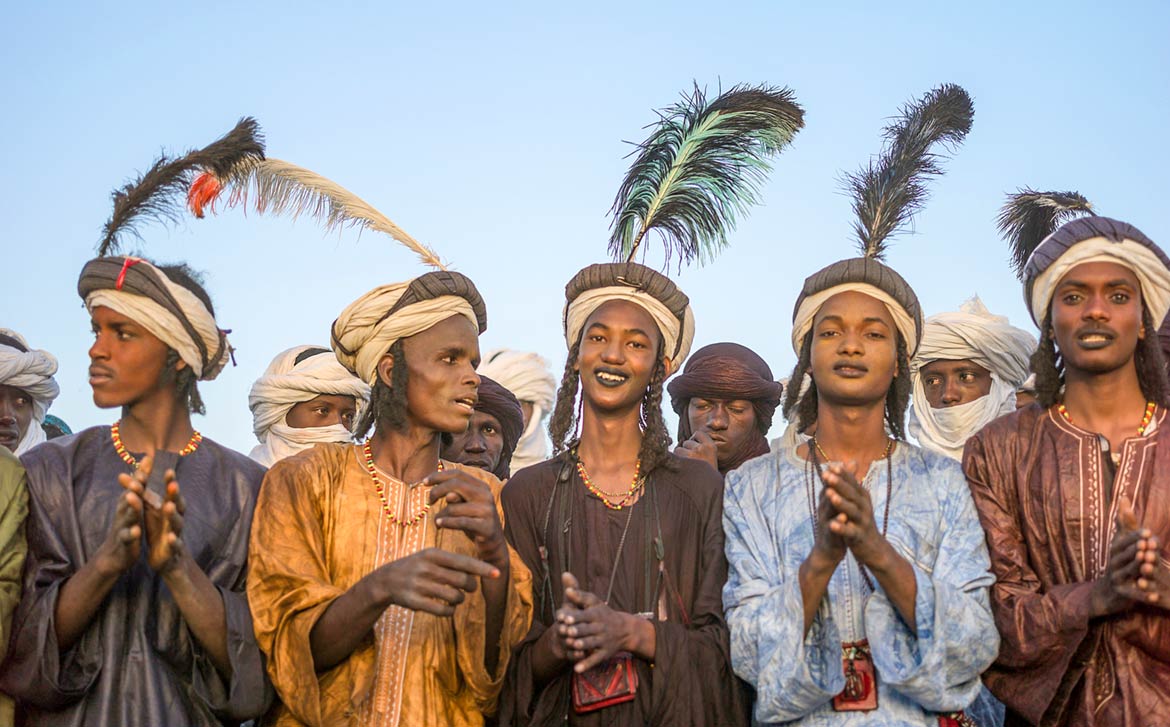 Contact Exquisite African Art