Bamileke AKA Society Elephant Mask
The elephant, like the leopard, was a royal symbol, though both animals have long since become extinct in Cameroon.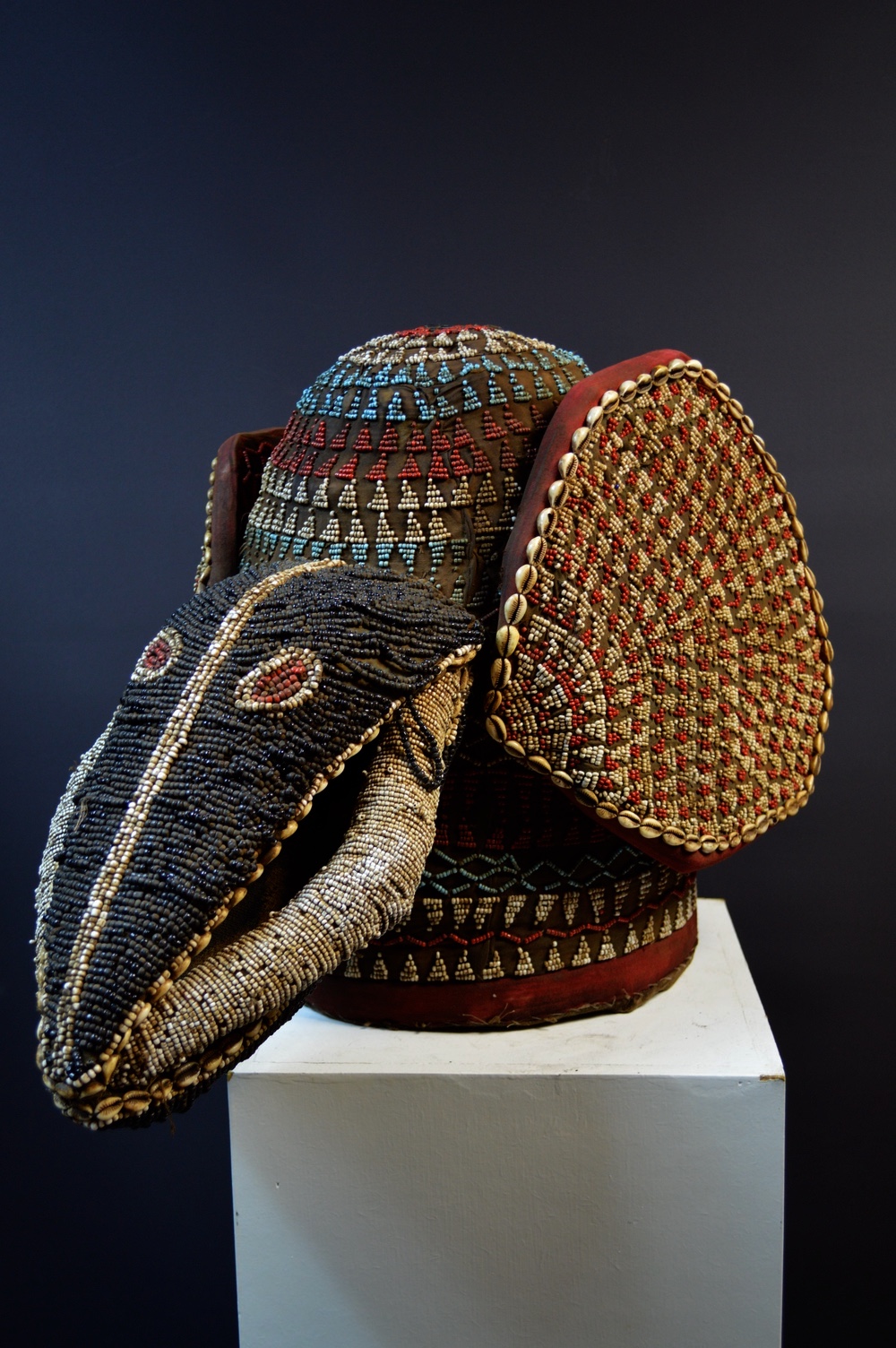 Tribe: Bamileke
Origin: Dschang Region Cameroon
Approx Age: 1960-70
Materials: Material, glass beads
Dimensions cm: 42 tall x 34 wide x 60 depth
Ref. Number: 1765
Description:
Bamileke AKA society mask in the form of an elephant, beautifully beaded, designed in geometric patterning. This style of mask is from the region of Dcshang. Elephant masks were among the most prestigious of all the masquerades performed by groups of wealthy, titled men in the small Bamileke kingdoms of the Cameroon Grassfields.
History
The Aka society is a society of Bamileke people who wear masks for dancing during traditional ceremonies, the Kuosi society is a society of people that also dance elephant masks but celebrate the night dance ceremonies in Bamileke villages. 
Elephants are the world's most commanding land creatures, unsurpassed in grandeur and power. Thus elephant masks, while rare in Africa,
are fully appropriate symbols of important leaders or, at least, their respected deputies or messengers. The societies that use these masks
in fact act as agents of chiefs' control and as formal royal emissaries. Elephant societies that originated in Bamileke and spread elsewhere
in the Grasslands consist of three graded ranks obtained by wealth. These elephant masks, signifying kingship and wealth, were worn by the
powerful members of the Kuosi regulatory society, which included members of royalty, wealthy title holders, and ranking warriors of the
Bandjoun kingdom of western Cameroon.
Contact Exquisite African Art