Bamileke Feather Headdress
Made from feathers of a parrot, bird of the notables.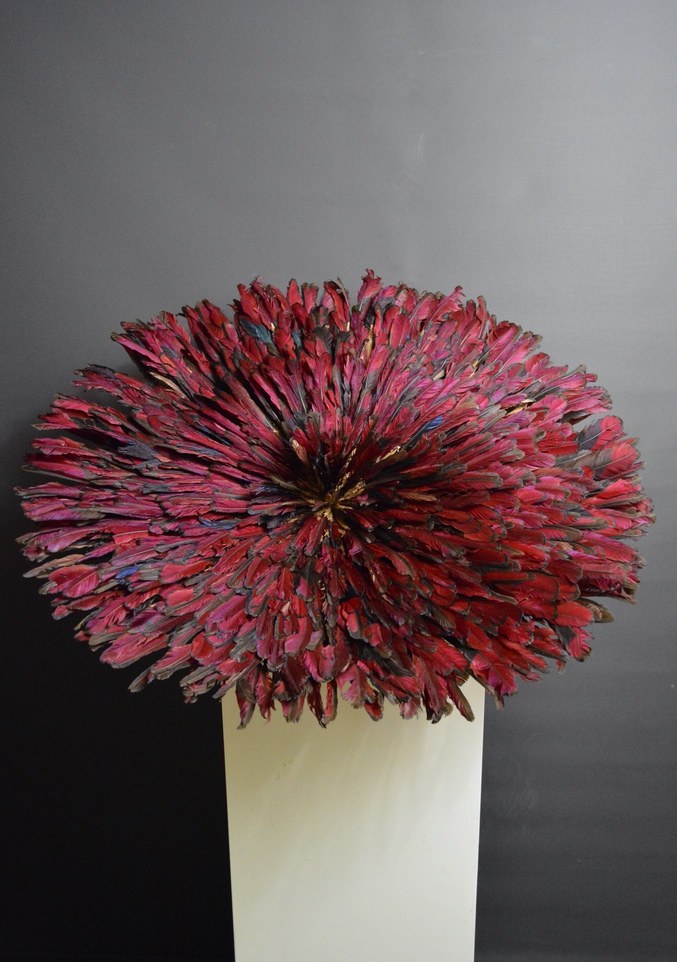 Tribe: Bamileke
Origin: Bajoun Chiefdom, Bajoun, Cameroon
Approx Age: 1950-60
Materials: Feather and wooden strips
Dimensions cm: 80 diameter
Ref. Number: 1238 knpc
Description:
This is a beautiful and old Bamileke feather headdress, this actual piece is made from parrot feathers, or the bird of the notables as it is known. These headdresses are more well known to the western collector as "Juju", yet in Bamileke territory it is known as Chapeau Ngou (hat of the notables).
Provenance: Acquired from the Bajoun Chiefdom.
History
Most Bamileke feather headdresses we see on the art market are made from dyed chicken or guinea fowl feathers, just for the resale market. This is made from parrot feathers as it was owned by a notable of the Bajoun chiefdom, this is exquisite, I haven't seen another as pretty or as old in such good condition before this one. This is part of my own collection and not for sale, but I thought I would put it up here to show it's beauty.
Feathers headdresses are worn by the King (Fon) and also by the Kings 9 notables during festivals. The most spectacular moment where the dancers wear this type of hat is during the dance of the Kuosi society, also called the elephant society, and is worn with a beaded cloth elephant mask… This prestigious society is lead by the members of the kingship. They are the most indicated to wear this prestigious hat also. For this hat with other forms of ceremonial costume demonstrate the power and prestige of the chiefdom.
Contact Exquisite African Art