Lovely and old Dogon stool of the Dogon people, Mali.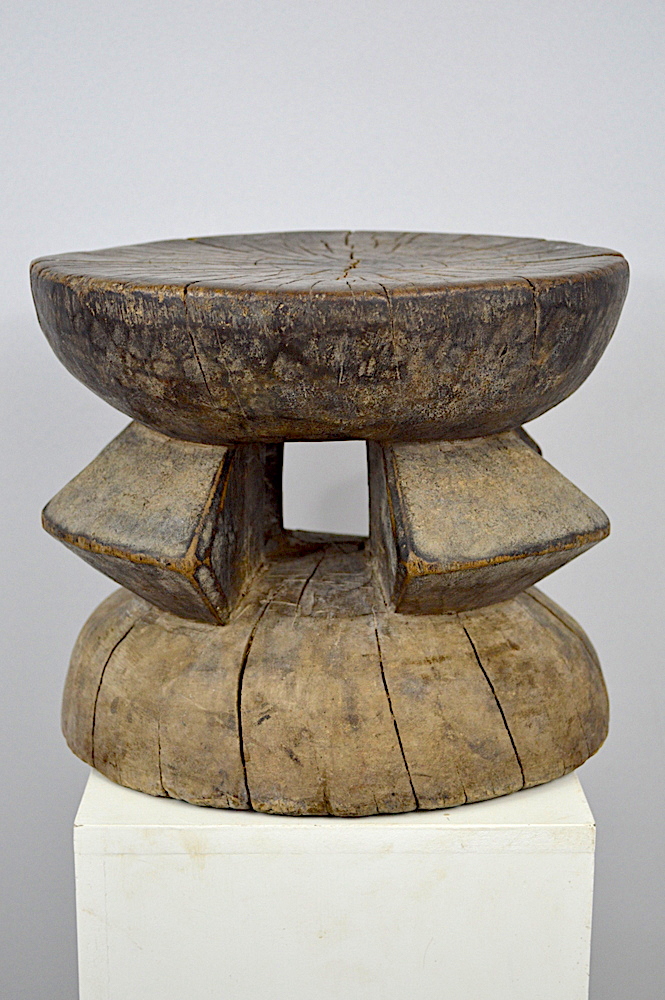 Tribe:
Dogon
Origin: Mali
Approx Age: Mid 20th Century
Materials: Wood
Dimensions cm: 22 (tall) x 27 (wide)
Ref. Number: 1226
Description:

Beautifully Dogon stool, aged and used stool from the Dogon people, Mali. Standing at 22cm tall this stool is actually wider than it is tall. Made compleately from a single piece of wood adding wonder to how the carver would produce such a stunning piece. This stool has developed an intense patina caused by life long use and exposure, with a few age cracks.  A stool of this design is of a standard form and would be used on a day to day basis by a Dogon family. A truely lovely piece of mid 20th century Dogon art.
Provenance: Ex Lampevelden Collection – Netherlands.
History
The Dogon are an ethnic group living in the central plateau region of Mali, in West Africa, south of the Niger bend, near the city of Bandiagara, in the Mopti region. The population numbers between 400,000 and 800,000.
Wooden stools serve the Dogon people for everyday use. There are two distinct types. The simple, abstract ones like the one that we have here that is old and wonderfully eroded by time, use and exposure. Dogon traditions describe the cosmos as two disks, the top of the stool and the base, forming the sky and earth linked by simple connections, in this case the abstract carved shapes. Working with this concept it helps to explain and understand where the Dogon draw their inspirations from when carving. In everyday use the design is of a simple nature and would be used by a Dogon family.
Contact Exquisite African Art