Ostrich feather adorned, simply styled Wodaabe Headdress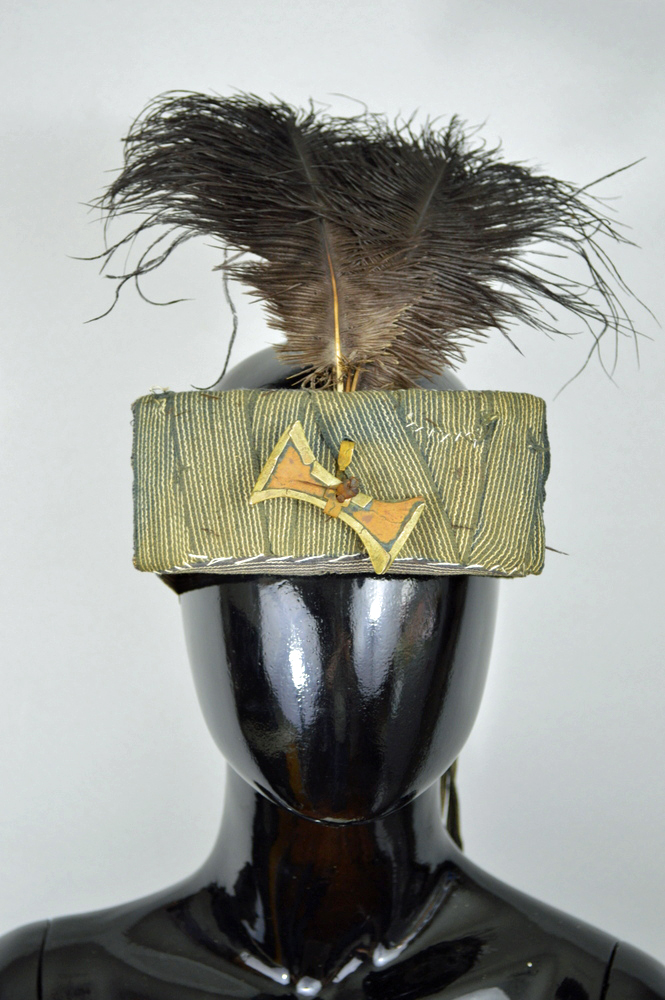 Tribe:
Wodaabe
Origin: Niger
Approx Age: Mid 20th Century
Materials: Material/metal/ostrich feathers
Dimensions cm: 26 (tall) x 16 (wide) not including tying tails
Ref. Number: 1337
Description:

This headdress from the Wodaabe tribe, made from a cotton fabric/textile has an endearing symplistic quality. A padded headband as the main body adorned with a metal bow shaped charm. Either side has been attatched three long strips of material bound at each end which are used to tie the headdress around the head. To complete this wonderful garment four dark ostrich feathers have been inserted to the middle of the headband giving a sense of glamour.
Provenance: Hans van Drumpt collection.
History
The Wodaabe, also known as the Mbororo or Bororo, are a small subgroup of the Fulani ethnic group. They are traditionally nomadic cattle-herders and traders in the Sahel, with migrations stretching from southern Niger, through northern Nigeria, northeasten Cameroon, southwestern Chad, and the western region of the Central African Republic. The number of Wodaabe was estimated in 2001 to be 100,000The Wodaabe keep herds of long-horned cattle. The dry season extends from October to May. Their annual travel during the wet season follows the rain from the south to the north. Groups of several dozen relatives, typically several brothers with their wives, children and elders, travel on foot, donkey or camel, and stay at each grazing spot for a couple of days. A large wooden bed is the most important possession of each family; when camping it is surrounded by some screens. The women also carry calabashes as a status symbol. These calabashes are passed down through the generations, and often provoke rivalry between women. The Wodaabe mostly live on milk and ground millet, as well as yoghurt, sweet tea and occasionally the meat of a goat or sheep.
They are known for their elaborate attire and rich cultural ceremonies. At the end of the rainy season in September, Wodaabe clans gather in several traditional locations before the beginning of their dry season migration. The best known of these is In-Gall's Cure Salee salt market and Taureg seasonal festival. Here the young Wodaabe men, with elaborate make-up, feathers and other adornments, perform the Yaake: dances and songs to impress marriageable women. The male beauty ideal of the Wodaabe stresses tallness, white eyes and teeth; the men will often roll their eyes and show their teeth to emphasize these characteristics. Wodaabe clans then join for the remainder of the week-long Gerewol: a series of barters over marriage and contests where the young men's beauty and skills are judged by young women.
Contact Exquisite African Art